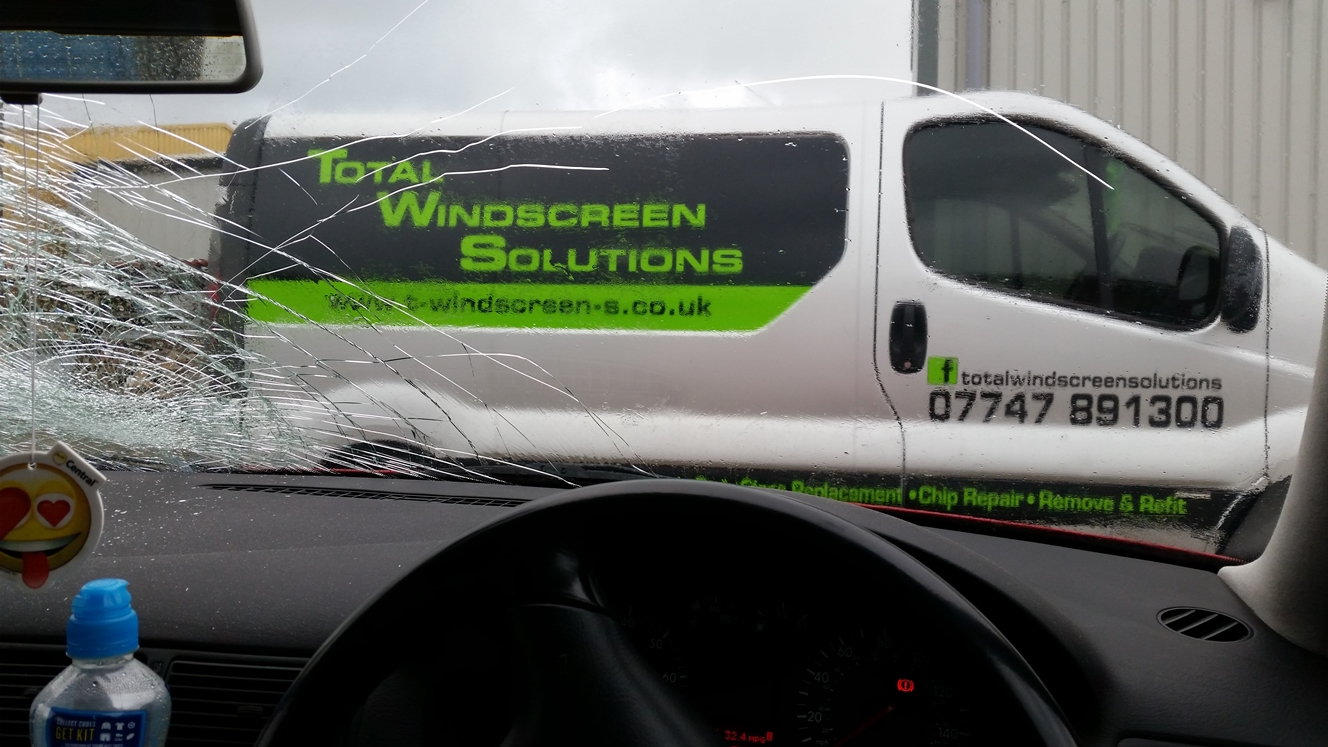 Windscreen repair and Windscreen replacement in Norwich and Norfolk, Total Windscreen Solution is one of East Anglia's premier car, van and agriculture windscreen repair and replacement specialists, providing a 24 hour mobile service to our customers located in the Norfok, Suffolk and surrounding areas.

TWS Customer Service
TWS offers the most competetive prices coupled with a speedy response. We pride ourselves on our wokmanship and are happy to report 100% customer satisfaction.

Stone Chips?
At TWS we are proud of our 'Repair First' promise where we always try to repair a stone chipped windscreen before replacing it, usually saving you both the time and money involved with a replacement.
chipped windscreen could develop a crack at any time - and often when you least expect it. That's why it's important to repair a windscreen chip as soon as you spot it.

Motorsport Lexan Window Kit
TWS can supply flat and 3-dimensional formed polycarbonate windscreens, side windows and rear screens for the motorsports industry. These kits are tailor made in the UK to your specification.
Benifits over stand glass:
Manufactured from high quality Lexan UV protected polycarbonate
Approximately 50% weight saving compared to glass
Each window is marked to meet MSA, FIA & ABG regulations
Windows are thermoformed and CNC profile cut ready to fit

Van Conversions
At TWS we also specialise in van conversions from adding additional windows to assisting with the internal conversion we are here to help just drop me a line.

Whether you live in Norwich, Cromer , North Walsham, Earlham, Dereham, Gt Yarmouth, Lowestoft, Aylsham, Marsham, Sheringham, Ipswich, Cambridge, Thetford, Watton, Wymondham, Costessey, Eaton, Sprowston, Thorpe, Coltishall, Wroxham, Roughton, Overstrand or anywhere in the Norfolk and Suffolk Postcodes Total Windscreen Solutions Can Help. We specialise in Car windscreen repair and windscreen replacements as well as Van conversions and specialist lexan polycarbonate windsreens. We also repair stone chips and small cracks sometimes these are covered by you insurance.
---
626 page views.
For the people of North Walsham by the people of North Walsham.
The North Walsham Guide is maintained by North Walsham residents who 'know their stuff' and every endeavour is made to keep information up to date. Unfortunately things do change without us knowing. If you know any reason why this entry for
Total Windscreen Solutions
is not suitable or no longer current then please do
let us know
. If you know of any business or organisation who we have missed please either
let us know
so we can add them or let them know as it's easy and free to
register
.
Support Total Windscreen Solutions
Please help us to help you and the North Walsham organisations and businesses in the guide. Let Total Windscreen Solutions know you found them in The North Walsham Guide.
The North Walsham Guide aims to support local businesses or organisations like Total Windscreen Solutions by providing this free service because at the end of the day we live and work here too and shopping locally and using North Walsham services helps us all, not just Total Windscreen Solutions.