Whilst walking around the town centre you may stumble upon one or more of ten Historic Plaques installed by the North Walsham Rotary Club to celebrate its centenary in 2005.

The Angel Hotel where George Edwards founded the Agricultural Labourers & Smallholders Union in 1906. It grew to become the National Union of Agricultural & Allied Workers. George was knighted in 1930.

Scarburgh House The home of the Scarburgh family, important landowners in the area from the 15th century. One of the greatest mathematicians of his time, Sir Charles Scarburgh held positions of honour under the Crown and is mentioned in Samuel Pepys diaries. The Scarburgh coats of arms can be seen on the gable.

Town Stocks The site of the stocks is now built over by the single storey extension to the Feathers Inn.

Admiral Lord Nelson Horace attended Paston School here from age 10. In 1771 he joined his uncles ship the Raisonable, and began his career in the Royal Navy. I am a Norfolk man and glory in being so.

Cornish & Gaymer A remarkable business which in 1880 employed more than 1000 men in joinery and masonry specialising in ecclesiastical work, notably Charles Simpson whose work can be seen in Norwich & Durham Cathedrals, Winchester College Chapel; he carved the altar here in the parish church at age 16.

Sir William Paston of Paston Letters fame, one of Norfolks richest men. Following the 1600 Great Fire he bought land and founded a school for boys. His magnificent tomb can be seen in the parish church.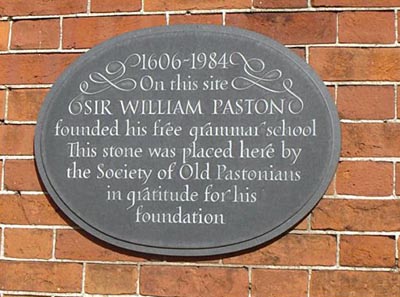 Thomas Dix Surveyor & Cartographer of Brentnall House, his finely engraved maps were published after his death in 1882. It appears that he had a boarding school academy here in 1803, terms 20 guineas a year.

Fisher Theatre The Fishers were a theatrical family. The theatre here was built in 1828 and enjoyed great popularity with the local gentry enjoying bespoke performances. Legend has it that the building is haunted!

James Empson Quaker & Miller of North Walsham, he provided for the building of the new Quaker Meeting House completed in 1772 after the original meeting house of 1692 had burnt down.

Walter Pardon was a traditional folk singer of international reknown. He lived all of his life in a cottage in Knapton, but sang in his local the Orchard Gardens. He travelled far to sing at folk clubs and festivals.