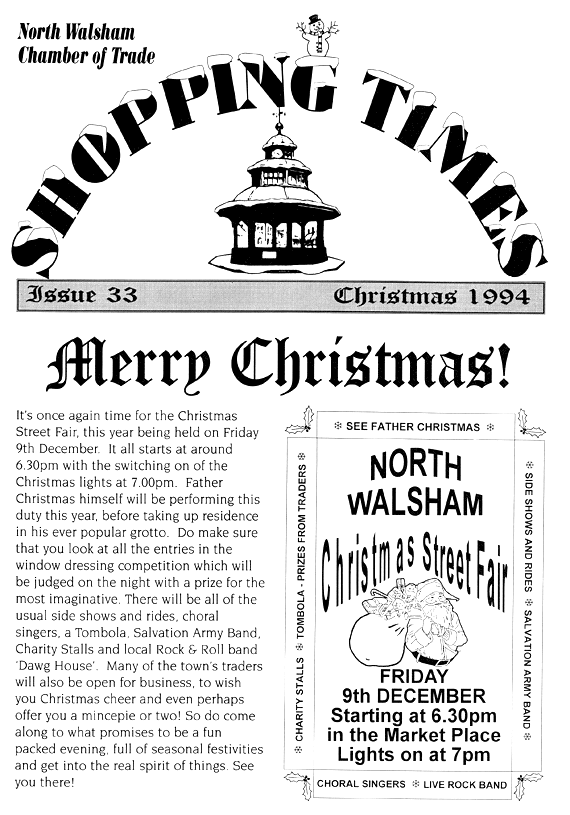 ---

Front Page ....
Its once again time for the Christmas Street Fair, this year being held on Friday 9th December. It all starts at around 6.30pm with the switching on of the Christmas lights at 7.00pm. Father Christmas himself will be performing this duty this year, before taking up residence in his ever popular grotto. Do make sure that you look at all the entries in the window dressing competition which will be judged on the night with a prize for the most imaginative. There will be all of the usual side shows and rides, choral singers, a Tombola, Salvation Army Band, Charity Stalls and local Rock &Roll band Dawg House. Many of the towns traders will also be open for business, to wish you Christmas cheer and even perhaps offer you a mincepie or two! So do come along to what promises to be a fun packed evening, full of seasonal festivities and get into the real spirit of things. See you there!
---
FROMTHE TOWNMAYOR
I started my year as Mayor on the last day of May this year and am enjoying the opportunity to meet so many different people and organisations.
I would like to thank my fellow Town Councillors, District and County Councillors for their support and hard work. This backed up by our loyal staff who run the office administration and the parks and cemeteries so well for us.
My first Sunday duty was to attend the Civic service at The Salvation Army, a wonderful welcome and a lovely service.
The Parish Church was full for the Remembrance Service at which 21 wreaths were laid. The Revd Woodhouse from the Congregational Church led the service. Canon Smith gave an excellent sermon based on the churchwardens window depicting Faith, Hope and Charity.
Afterwards my wife and I were invited to attend the laying of wreaths at the War Memorial Park and then a wreath at the Cottage Hospital which was built in memory of those who died in the first World War.
Perhaps when we read our newspapers or watch the television news we can thank God that whatever our problems and worries are, personal or business we do at least have peace.
Hoping Christmas and the New Year will be a very happy and healthy one for us all.
Yours sincerely, Jim Legrice
---
SURGERY OPENING TIMES OVER CHRISTMAS
Birchwood Surgery
During the Christmas period the Surgery will be closed on Sunday 25th December - Christmas Day
Monday 26th December - Boxing Day
Tuesday 27th December - Christmas Bank Holiday
re-opening on Wednesday 28th December at 8.30am
For medical Emergencies arising during the Christmas holiday that cannot wait until 28th December, please telephone: (0692) 402035 and the answering service will advise you of the doctoron call.
Please remember to order repeat prescriptions early to make sure you do not run out, or have to order close to Christmas Eve.
Paston Surgery
Sat 24th 8.45am - 12noon (Emergencies only)
Sun 25 Monday 26th Tuesday 27th CLOSED
Wednesday to Friday 30th December 8.45am - 6,00pm
Sat 31st December 8.45- 12noon (Emergencies only)
Sunday 1st Jan, Mon 2nd Jan Closed
---
THECHAIRMANS LETTER
The hosting of the annual street fair on Friday 9th December will celebrate not only the turning on of the Christmas lights but also the superb response from North Walsham, traders, local organisations, clubs and charities to the Chambers appeal for donations towards the costs involved with the evening. This certainly dispels the recent apathetic image given to the town in recent press reports and the Chamber is delighted to report that this years event is on line to be the best ever.
This event more than any other sees the working together of the whole of the community for the benefit of our town - we need you the public to support not only the efforts of a small number of Chamber members but also all our traders. The street fair will this year follow the previous successful format with many side show attractions, charity stalls, bands, Christmas carols and the ever popular Father Christmas grotto. The lights will be turned on this year by Father Christmas at 7pm and the theme for the event is - Simply Christmas. Entries are coming in for the towns window dressing competition, the theme for which coincides with the street fair and there will be a special prize this year for the most imaginative theme. If you have not already done so please contact me as soon as possible to register - judging will take place on the evening of the street fair and the prizes will be presented on the evening at 8.45pm.
May I as chairman of the Chamber of Trade thank all thos who have so far contributed towards the not inconsiderable expenditure of the evening, say a public thank you to my committee for their continued support and take this opportunity of wishing the whole North Walsham community a very Happy Christmas and more prosperous 1995.
Cilla Quittenden
A SPRINKLING OF THE TRADERS OF THE TOWN WHO WILL BE OPEN TO SUPPORT THE STREET FAIR ON FRIDAY 9th DECEMBER
NAT WEST BANK FRANCIS JONES
WOOLWICH P.S. BLAKES BUTCHERS
WOOLWORTHS BARARDOS
DRUG STORE CARPENTERS ARMS
MIDLANDBANK WOODROWS
POSTLES HEAD COOK & BOTTLE WASHER
SOMERFIELD B.T. APPLIANCES
BALMFORTHS NORTH KEBAB
DRAGONFLY GIFTS DRAGONFLY CLOTHING
HUGHES T.V. GOLDEN COD NORTHWALSHAM INSURANCE SERVICE
ALLIANCE & LEICESTER FLOWERS & CRAFTS
DARRENS PETS SPORTSWISE
EASTERN CARPETS CASHCUT
RAY UNDRILL ROYS
KARAMANDA NORTH WALSHAM PRODUCE
MICHAEL WRIGHT ELECTRICAL
EXPRESS PRINTING & STATIONERY
Correct at the time of going to print
and dont forget to visit all those shops not in the Market Place, they will be delighted to see you!.
---
VISITING GUIDE
Ever mindful of the need to ensure North Walsham receives its share of tourists, the Chamber have spent many months discussing the feasibility of placing you are here maps in strategic places in the town. It is envisaged that these will display not only the many amenities available in our town but also confirm what we in the locality already know that North Walsham is an ideal base from which to visit the many surrounding attractions. Already many local traders have asked to be included within the advertising campaign which will be necessary to fund the project and we will be communicating with individual local traders during the early part of 1995 for support. The project will be designed to incorporate local organisations, schools, youth clubs and charities - we need the support of you all for this project to succeed - please contact your Chamber Chairman who will be pleased to supply further details as and when they are available.
Cilla Quittenden
---

CHRISTMAS CONCERT
The North Walsham Choral Society are giving a Christmas Concert in the Parish Church on Saturday 10th December at 7.30 pm. Carols for Choir and Audience, and Carol of Christmas by John Peterson. Conductor: Roy Arscott. Organist: Trevor Conway. Narrator: Ron Bradley. Mulled Wine and Mincepies. Programmes at the door 3. (2 concessions.)
---
TWINNING VISIT TO FRIESENRIED
Nearly fifty very happy people returned to North Walsham on Thursday evening (26th Oct) at the end of a most successful twinning visit to our friends in Friesenried, Bavaria.
For those people that are not aware, we should say that the twinning commenced 13 years ago but the official twinning ceremony to form the partnership was only three years ago and already firm friendships have been formed and on this most recent visit many new friendships were started.
Happily we had nine teenagers with us in our party and that was much appreciated by our hosts, especially as they gave such a good account of themselves and proved to be very good ambassadors for the younger generation.
Franz Schweiger is the new chairman of the association in Friesenried and together with his committee prepared an interesting and entertaining programme for us commencing with a very warm reception. The programme included music by an excellent school jazz band, gymnastic and dance displays sight seeing trips both local and to Munich where we also attended a lecture in the European Ministry on Bavarias role within the EU.
The highlight of the visit is always the outing to the mountains with a chair lift up over the forests and lakes to the mountains where the air is crystal clear and silent except for the sound of cow-bells from the meadows below, and the autumn colours were truly Golden October.
It is always sad to leave but on the last night is party night and several members of the North Walsham group entertained by playing musical instruments and singing. This was followed by a modern dance routine done by the young people of both communities proving that already bonds were being formed. A surprise item was an excellent Latin American dance display by two new members of our group.
Some tears were shed at the moment of parting but we came away with our hearts filled with happiness and our stomachs with wurst.
Ellen Grover Chairman,
North Walsham Friends of Friesenried Association.
---
CAB - Shopworkers and Sunday trading
Restrictions on Sunday trading were lifted at the end of August and most shops can now open seven days a week. While this change brings benefits to people with limited time to shop during the week, it has serious implications for shopworkers, most of whom already work over part of the weekend. Concern about their position has led to some protection being built into the new legislation on Sunday trading.
Shopworkers employed - before 26th August 1994 ; cannot be forced to work on Sundays. They are also protected against dismissal or detrimental treatment if they refuse to work on Sundays. If they are sacked because they refuse to work on Sundays, under the new law they can make a claim for unfair dismissal, regardless of their length of service or the hours they normally work. Even if they had previously agreed to work on Sundays, they would still have a right to claim unfair dismissal. The legislation applies to all shopworkers, including cashiers, counter assistants, warehouse workers, shelf fillers, managers, office staff and cleaners.
Shopworkers starting a job after 26th August can also opt out of Sunday working, but they will first have to give their employer three months written notice of their intention. They may still be required to work on Sundays during this period, but cannot be dismissed or treated unfavourably for having given notice of objecting to working on Sundays. Once the three months has elapsed, employers cannot impose Sunday working, even if this is written into the contract. If you decide you want to work on Sundays after all, you need to let your employer know in writing, then agree exactly what work you will do on Sundays. You still have the right to opt out of Sunday working if you change your mind again.
Shopworkers who agree to work on Sunday are not automatically entitled to be paid overtime or a higher rate of pay to take account of unsocial hours. Since Wages Councils were abolished last year, pay rates are a matter for individual negotation, and are governed solely by contracts of employment.
Unlike other European countries, in the UK there are no restrictions on the number of hours you can be asked to work by your employer, but health and safety regulations provide some safeguards. Shopworkers who work more than four hours on a Sunday are entitled to a full day off in lieu, in addition to the statutory half day to which they are entitled. Under the terms of the Shops Act, no-one should have to work more than three Sundays in any month.
For more information about employment-rights, or for help with any other problem, contact North Walsham Citizens Advice Bureau in the Portakabin by the Council Offices in New Road. Opening hours are Monday, Tuesday, Thursday and Friday, 10.00 am to 3.00 pm, telephone 402570. No appointment is necessary unless you wish to see one of the Employment specialists or Debt Counsellors.
---

NNDCREFUSECOLLECTION
North Norfolk District Council are anxious to ensure that all residents have their Christmas and New Year refuse collected as quickly as possible. The collections will be as follows:-
Normal Collection Revised Collection
Mon 26th December Sat 31st December
Tues 27th December Tues 3rd January
Wed 28th December Wed 4th January
Thurs 29h December Thurs 5th January
Fri 30th December Fri 6th January
Mon 2nd January Sat 31st December
You are not limited to the amount of domestic refuse sacks you put out on these days but please remember to recycle those bottles, papers etc. and compost where possible.
---
LIBRARY OPENING TIMES OVER THE HOLIDAY
CHRISTMAS EVE 9AM TO 1PM
REOPENING WEDNESDAY 28TH 9AM
DECEMBER 31ST 9AM TO 1PM
REOPENING TUESDAY 3RD 9AM
---

NORTH WALSHAM RUGBY CLUB
Thirty two years ago a group of sportsmen who lived in and around North Walsham found the journey to Norwich to be to far too go for a game of Rugby. A meeting was called in a local hostelry and North Walsham Rugby Club was born under the Presidency of local Headmaster Ken Marshall, and the captaincy of local police officer John Mansfield. The early games were played on a small pitch with the players changing in somewhat primitive conditions. When it appeared that the Club was going to survive plans were laid for a more permanent base and land was purchased at Scottow close to the Three Horseshoes. With no more money for a club house the players changed in a room at the back of the Pub and trooped across the road to play. Since those early days thanks to a lot of hard work things are vastly different. The site at Scottow now boasts a two storey Clubhouse with Bar (of course), changing facilities, showers, weights and physio rooms. Outside there are three full size pitches, the main one with the latest state of the art Floodlights, and the latest acquisition, land for pitches for Mini Rugby. This latest venture will enable the 100 plus youngsters to turn up most Sundays to take their first steps on the road to the 15 man game, to benefit from expert coaching on their own pitches.
Few of those who helped to form the club in 1962 would have dreamed that one day far from facing the prospect of travelling to Norwich to play, the name of North Walsham would be carried to such places as Redruth, Camborne and Brixham in the West Country, Lydney & Berry Hill in the Forest of Dean, Headingly in Yorkshire as well as playing at the home of such illustrious names as London Welsh, London Irish, Saracens & Rosslyn Park. All of this has been achieved in a remarkably short space of time and is a credit to the tenacity and dedication of the pioneers of 1962 and those who have followed them. Of course as the demands of running a Club which regularly turns out five senior sides each Saturday in the season, as well as the Youth/Mini section which caters for 11 different age groups, some of the organisational and playing strength now comes from outside the immediate area. There is however still a nucleus of members both playing and non playing who live and work in and around the town. They and those who travel in to play for the club are equally proud to be part of North Walsham Rugby Clubs success. Success which over the years has seen them win the Norfolk Cup on five occasions (will it be six this year?), the Eastern Counties Cup three times, make eight appearances in the Pilkington Cup and in 1990 win the prestigious Whitbread-Rugby World & Post Junior Club of the Year. All this could not have been achieved without the support of the local community. Anyone who has visited the ground, (and everyone is welcome to do so), will not have failed to see the perimeter advertising boards, indicating the support of local businesses. This, together with the advertising in the Match day programme, makes a vast contribution to the financial well being of North Walsham Rugby Club which in turn enables them to fly the flag for th town whose name they so proudly bear.
Anybody interested in knowing more about the North Walsham Rugby Club can contact Tony Marcantonio on (01362) 564285 during the day or (01493) 751837 in the evenings.
---

The Carpenters Arms News
Just in case there is someone who is reading this who does not know.....The Carpenters Arms is open! 10am -5pm and 7-10pm, Monday - Saturday. Have you been inside yet? It's a good place to be on a cold winter's day. If you are under 20 years old and a student, it's probably best to visit at lunchtime and have a super cheese toastie or a slice of pizza, and twenty pence in the Juke box will play your favourite record while you eat your lunch. If you are a young Mum with toddlers,
morning coffee is a good time to meet up with your friends, there is a toy basket for the children to play with and a high chair if you need it for a little one, take Gran and Grandad with you too, they will like the smoke free atmosphere. There is a lot of choice, ground percolated coffee, instant coffee, tea, or lemon tea , hot chocolate. You name it, we have mostly got it, and if we haven't, we will get it for you if we can.
Afternoon tea is good too. There is a variety of cakes for sale at reasonable prices.
The evenings are a bit quiet...the students have a lot of homework...but sometimes there is a party in full swing, they are usually held at the weekend. The alcohol free drinks are brilliant,lots of variety and they look and taste nice too and soon you will be able to enjoy a game of pool,or watch a pool game, eating a packet of crisps or nuts, sipping a glass of Ginger Glow or Meribah. Sounds good? It is!
.
The best is yet to come....you are served by a volunteer, made welcome by Cathy Gotts, our ever cheerful manageress and if you feel a bit lonely or fed up she will find you someone to talk to, if you so wish.
Why is the Carpenter's Arms in existence? Is it a success? Come and see, whatever your age, let it speak for itself and in so doing you will help it continue and develop .
---

A BUSYBEECHWOOD!
The Beechwood Hotel on the Cromer Road has been awarded a Johansens Recommendation in its 1995 Private Country Houses Guide. The Hotel, which has now been under new ownership for just over a year, will be promoted by Johansens, which selects Hotels and Inns that offer diversity and excellence for the discerning traveller.
The Beechwood has become well known for its warm and friendly atmosphere, a real home from home. This atmosphere is soon to be enhanced by the re-fitting of the restaurant which will soon be capable of entertaining weddings and functions for up to 70 people. The restaurant is open to non-residents, serving a set price evening dinner menu for 12.00, a three course traditional Sunday Lunch for 6.95 and a range of excellent bar meals. This will soon be complimented by a full ALa Carte menu starting early in 1995. Also to look out for next year is a repeat of last summers highly successful Garden Party. Watch this space.....!
---

Counterfeit Notes in North Walsham
In recent months there has been an increase in the number of counterfeit bank notes being passed in our area.. There are several products on the market to assist with detection of such notes. However, the principal features on Bank of England notes are intended to be verified by sight and touch by ordinary members of the public. It is for this reason that the most reliable method of identifying a counterfeit is to compare it carefully with a note of the same type which is known to be genuine and to check the following points:-
(1) The feel of the paper. If a note is in reasonable condition it should be crisp and slightly rough in the heavily-printed areas. It should not be limp, waxy or shiny.
(ii) The quality of the printing. It should be sharp and well-defined with no blured edges. The colours should be clear and distinct with no hazy fringes.
(iii) The watermark. It should hardly be apparant until the note is held up to the light. Then a clearly defined portrait, with subtle graduations of light and shade, is visible.
(iv) The thread. All genuine notes have a thread embedded in the paper. The windowed thread used in recent notes appears as a series of silver dashes on the front. The thread in older notes is completely buried in the paper. In all bank notes, when held up to the light, the thread appears as a bold continuous line.
Clearly it is not possible for a busy cashier or shopkeeper to check every note in this way, but those who handle cash regularly become very familiar with the general appearance and unique feel of genuine notes. If their suspiscions are aroused for any reason by a particular note, then they should carry out the checks described above.
Items to assist in the identification of counterfeit notes include Ultra Violet Lamps and Counterfeit Pens, the latter can be obtained from the North Norfolk Crime Prevention Panel at North Walsham Police station, at a cost of 5, telephone (0692) 408427.
Jonathan Smith
Crime Prevention Sergeant
North Walsham Police Station
---

CARNIVALTIMEAGAIN!
North Walsham Swimming Pool Fund are pleased to announce that plans are going ahead for a carnival in 1995. We had to forgo the event this year as we were so short of helpers but we hope that after the break we will have more volunteers.
We have also launched our own Lottery with 25p scratch cards giving instant wins 25p to 10 and larger money prizes up to 100. This is proving a very successful venture and tickets are on sale at the Blue Bell, Granvilles Store, Tatters Fishing Tackle, Blue Bell Stores & Sportswise and of course all committee members.
If anyone is interested in helping our fund-raising in any way please contact Ellen Grover, Chairman Telephone 402500.
Currently the fund stands at just over 70,000.
---
NORTH WALSHAMINBLOOM?
Mrs Audrey Woods reports a disappointing response to her appeal in the Autumn Shopping Times to organise an entry in the Britain in Bloom competition 1995. We need the support of everybody; businesses, Schools, Councils, as well as individual gardeners. Mrs Woods can be contacted on North Walsham 403265
---

CHEMISTSOPENINGTIMESDURINGTHEHOLIDAY
Boots:
Christmas Eve; 9am - 5.30pm
Reopening Wednesday 28th 9am - 6.30pm
December 31st 9.-5.30pm
Reopening Tuesday 3rd 9am - 5.30pm
Page:
Christmas Eve 9 -1pm
Reopening Wednesday 9am - 5.30pm
December 31st 9am - 1pm
Reopening Tuesday 9am - 6.30pm
---

ThankYou!
The Chamber of Trade wishes to thank all those who have so generously made donations towards the Christmas Lights this year.
Their names will be displayed on a board in the Market Place during the Street Fair as a public acknowledgement.
---
ROYAL MAIL - Recommended latest Posting dates Thursday 8th December - Airmail Letters to outside Europe
Wednesday 14th December - Airmail Letters to Europe
Monday 19th December - Second Class Letters
Wednesday 21st December - First Class Letters
Tuesday 27th December - Normal Sunday style collections from Post Offices
Monday 2nd January - Normal Sunday Style collections from Post Offices