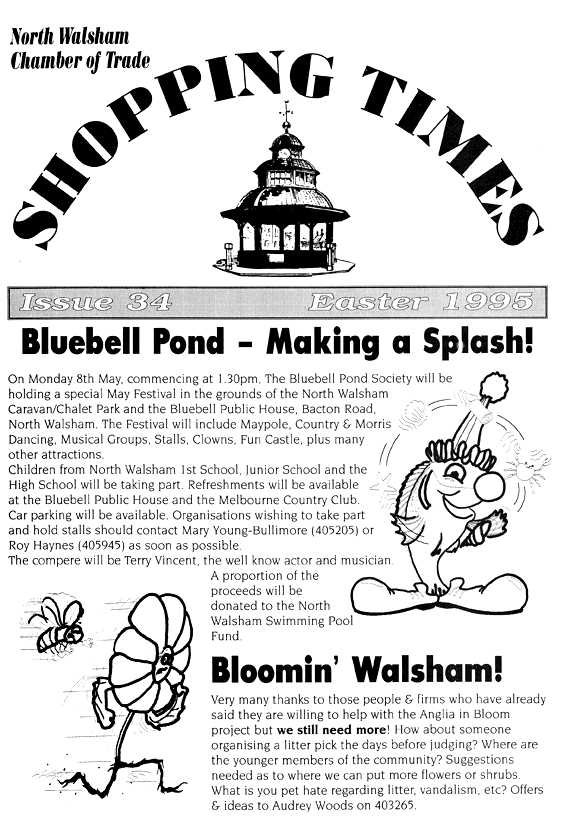 Bluebell Pond - Making a Splash!
On Monday 8th May, commencing at 1.30pm, The Bluebell Pond Society will be holding a special May Festival in the grounds of the North Walsham Caravan/Chalet Park and the Bluebell Public House, Bacton Road, North Walsham. The Festival will include Maypole, Country & Morris Dancing, Musical Groups, Stalls, Clowns, Fun Castle, plus many other attractions.
Children from North Walsham 1st School, Junior School and the High School will be taking part. Refreshments will be available at the Bluebell Public House and the Melbourne Country Club. Car parking will be available. Organisations wishing to take part and hold stalls should contact Mary Young-Bullimore (405205) or Roy Haynes (405945) as soon as possible.
The compere will be Terry Vincent, the well know actor and musician.
A proportion of the proceeds will be donated to the North Walsham Swimming Pool Fund.
---
Bloomin Walsham!
Very many thanks to those people & firms who have already said they are willing to help with the Anglia in Bloom project but we still need more! How about someone organising a litter pick the days before judging? Where are the younger members of the community? Suggestions needed as to where we can put more flowers or shrubs. What is you pet hate regarding litter, vandalism, etc? Offers & ideas to Audrey Woods on 403265.
---
THE CHAIRMAN WRITES...
PUTTING WALSHAM ON THE MAP
The Chamber are pleased to report that its project to provide This is where we can be found maps in the town is slowly taking shape and we are currently discussing appropriate locations with the Town Council with a view to the necessary planning/highway consents being obtained. The Chamber will, in due course, invite all North Walsham traders to participate by taking appropriate advertising space - even at this early stage several traders have asked to be included and the Chamber are confident that the project will come to fruition during the 1995/96 Chamber year. Our scheme will be similar to the map reproduced here and currently sited in Banbury but it is intended to offer an opportunity for those traders taking advertising space to have their name highlighted in their particular location.
An indication from all traders wishing to participate would be most welcome.
---
Window on North Walsham 1995
Several traders have currently indicated a desire to participate in the above event to be held at the Community Centre during September. You will recollect the 1994 event was cancelled due to lack of support now more than ever it is essential that the town continues to work together to ensure the public is aware of what North Walsham has to offer previous events certainly played an important role to this end. It is intended that the booking fee for this two day event will remain at 15 for a single space I will have a supply of booking forms available at 16 Market Street..
---
Annual GenEral Meeting
The annual general meeting of the Chamber will take place on Wednesday 25th April at Scarborough Hill Hotel at 8pm. Why not come along and have a glass of wine with your Chairman and her committee we will be delighted to see you.
Cilla Quittenden
Chairman of North Walsham Chamber of Trade
---
The Town Mayor writes...
I have only one more meeting to chair before the elections and handing over to the new Mayor, how quickly the year has gone.
Several councillors are not standing for re-election, I would like to thank all councillors for their support during my year and to thank them all for the time and work they put in.
One we shall sadly miss is Len Howlett who joined the Urban District Council in 1969. In 1981-82 he was town Mayor. We shall miss his love and knowledge of the town, of procedure and his humour.
The Cottage Hospital is having a major change with a covered way linking the physiotherapy unit to the Cottage Hospital and a new entrance and bathroom facility for the men.
My thanks to all the organisations who invited myself and Pat to join them. I am looking forward to meeting the Good Companions Club, the St Georges Day Scouts Parade, the visit to the Parish Church of the Salvation Army Singers and the Town Council Civic Dinner at the Community Centre. I look forward to seeing you all.
Jim LeGrice
---
Friends of Friesenried Twinning Association
The Friesenried association are maintaining a lively contact with our twins in Bavaria. Following a very successful exchange visit last October we are now supporting a scheme for an exchange visit for a small party of our firemen to visit Friesenried to attend the celebrations of the 125th anniversary of the Friesenried Fire Brigade. The next exchange visit from a party from Friesenried is expected to be around June next year. In the meantime we continue with various social activities, suppers & outings, etc. If anyone is interested in becoming a twin please ring the Town Council Office 404114 .
Ellen Grover
Chairman Friends of Friesenried Twinning Association
---
POOLING IDEAS
At long last things are beginning to move on the swimming pool front. We are making efforts now to apply for help from the state lottery but before we are able to do this we must do a fact finding survey including a site. North Norfolk District Council are giving us a lot of support in compiling these facts and our immediate concern is to find the right place that will suit all parties. The Memorial Park has been suggested and many people feel that this would be ideal but we are meeting soon with the planning officers to look at all possibilities.
In the meantime we are continuing with fund-raising and are once again organising the Carnival to be held on 7th. 8th. & 9th. July. Some of the events will include a Disco/Dance on the Friday, Teddy Bears Picnic, Fete and Car Boots on the Saturday and of course the Carnival Parade on the Sunday followed by the Fete and many other events. So, put the date in your diary and dont forget to come and join us and have fun at the Carnival.
Any enquiries: Ellen Grover 402500. Roger Oakley - 35 Marshgate, North Walsham - letters only, Mary Young-Bullimore: 405205
---
MOTORCYCLE MUSEUM IS MOTORING ON
The Norfolk Motor Cycle collection has been collected by George Harmer over the last 25 years and it is still growing.
Georges first bike was a 125cc BSA Bantam which he used to ride to work at the age of 16. An avid amateur motorcycle scrambler, Georges collection is now on display in a new museum at the Railway Station.
The collection of bikes from the 20s to the late 1960s, has been lovingly put together and contains many rare and interesting motorbikes.
The Museum undertakes private restoration work supplying both original and replica spare parts from wheels to forks for all makes of early motorbikes.
All bikes have or are being faithfully restored to original livery but your comments and information are welcomed on any of the exhibits in the museum.
The museum also has a display of early Dinky and other makes of die cast toys dating from the mid 1940s.
You can find the Norfolk Motor Cycle Museum situated next to the North Walsham Railway Station, it is open 10am to 4.30pm seven days a week and costs 2 (adults), 1.50 (senior citizens) and 1 (children) to enter.
---
CAB NEWS
Incapacity Benefit. In April, Sickness and Invalidity Benefit are both to be replaced by the new Incapacity Benefit. Payments will not be reduced for those already receiving these benefits but most new claimants will receive less money under Incapacity Benefit. There is a new all work test to qualify for Incapacity Benefit and most people currently on Invalidity Benefit will need to satisfy the new test to qualify. Some with particularly severe disabilities and those who are terminally ill will be exempt from the test.
It will take more than two years to carry out the new test on all the people who need to take it. In the meantime, claimants should continue to receive their benefit in the normal way, but must carry on sending in doctors certificates as usual.
When a case comes up for review the claimant will be asked to fill in a questionnaire which will ask about a range of physical and sensory functions such as walking and speech. The claimant will also have to ask his doctor for a certificate giving a diagnosis of the claimants condition and its effects, but not for an opinion on whether he is fit enough for work.
Some people will qualify for benefit without having to go through a medical if it is clear from their questionnaire score that they are incapable of work, although most people will be called for a medical examination by a Benefits Agency Medical Service doctor. Claimants with a life-threatening condition, or one that is both severe and difficult to control, or are awaiting admission to hospital for major surgery, will be classed as incapable of work.
If a claimant is refused benefit on the grounds that he is fit for work, there is a right of appeal and he may be able to get Income Support in the meantime.
Passport changes. Travel documents with limited use are being phased out this year, so that in future a full passport will be needed for any trip abroad. As of 1st March 1995, excursion documents once available for trips to France, Belgium and the Netherlands are no longer valid.
British visitors passports will no longer be valid for travel to Spain from 1st October 1995, or to other countries from 1st January 1996. People travelling to mainland Spain or any of the Spanish islands, including Majorca, Minorca, Ibiza, Tenerife, Gran Canaria and Lanzarote on a British visitors passport will need to complete their return journeys by September 30th.
From 1st January 1996 you will need a full passport to travel anywhere outside the UK, including short visits to other European Community countries. The Passport Office is urging everyone planning a trip abroad to buy a standard passport now if they have not already got one. This costs 18, is valid for 10 years, and can be used for travel worldwide.
If you would like help with these or any other problems, please contact North Walsham Citizens Advice Bureau in the portakabin by the Council Offices in New Road. Opening hours are Monday, Tuesday, Thursday and Friday, 10am to 3pm. No appointment is necessary unless you wish to see one of the Debt Counsellors or Employment Advisers. The telephone number is 01692 402570.
---
TAKE A BREAK
BREAK Charity provides holidays and respite care for profoundly handicapped children and adults at centres in Sheringham and Hunstanton.
The benefits are twofold. Whilst our guests are enjoying their holiday at Rainbow in Sheringham or The Sandcastle in Hunstanton, their parents or carers are benefitting from a much needed break. A week or two apart can really make a difference. As more people are being cared for in the community, the need for the kind of respite care BREAK provides is becoming increasingly important.
The centres offer a varied and active holiday programme tailored to meet individuals needs and include trips to the beach, boat trips, wildlife parks and sealife centres - the kind of places most people like to visit on their holiday.
The dedicated care staff and volunteers work together to ensure that everyone has a holiday to remember. Specialist equipment in the homes ensures that guests have a comfortable stay and adapted vehicles enable wheelchair users to join in all the outings.
BREAK has been providing holidays for 26 years, each year receiving over 1,000 guests and the charity subsidises every holiday week so that more people can benefit.
Our charity shops provide vital support for BREAKs care work and rely on the public for both custom and donated goods. Our shop in Market Place, North Walsham stocks a wide range of goods including clothes, household items, bric-a-brac and books - there really is something for everyone.
If you would like more information about BREAKs work please contact Nicki Genders at 7a Church Street, Sheringham, Norfolk, NR26 8QR. Tel: (01263) 822161.
BREAK is a registered charity no. 286650.
---
North Walsham Amenity Association
North Walsham Amenity association is now 5 years old. We are affiliated to the Norfolk Society which is the county branch of C.P.R.E. (The Care and Protection of Rural England). Membership is open to anyone who is interested in preserving the character of the town and the beauty of the countryside. We hold quarterly meetings at which we have guest speakers who cover many environmental and related subjects. We recently made an award to Anglian Water for the excellent work they did to improve the Stump Cross and we also support the proposal that North Walsham takes part in the Anglia in Bloom Competition which is organised by the Keep Britain Tidy Group and we hope it will inspire residents to try and make our town a brightly colourful and tidy place. We have also made ourselves responsible for the care and maintenance of the grass and flower and shrub borders at the station approach. So if you are interested in joining us, please contact David Gosling Chairman on 405023. New members are always welcome.
---
COMPETITION
North Walsham Library
Draw, paint, collage or model the animal you would most like to have as a pet. (Real or imaginary). Then say why in not more than 25 words.
Dont forget to include your name, age and library Norlink number or address. Entrants must be 10 years old or under. Entries to North Walsham library by Friday 12 May
All entries will be displayed in the Library. Small prizes for the 3 best entries.
---
Friends of North Walsham High School
The F.N.W.H.S. recently held their A.G.M. which was attended by only a few parents but nonetheless the Friends were able to report a very successful fund-raising year and were able to support the school with equipment to the value of over 4,000. Funds are mainly raised by the school Discos which are arranged by the Friends. These are very popular with the children and provide a happy and safe evening out for the youngsters. We do however have a shortage of helpers to supervise at the Discos and if anyone is willing to assist perhaps once or twice a term we would be very pleased to welcome them. If so please contact the school office on 402581.
---
SPRING INTO PASTON COLLEGE
Why not try something different this year? Whether you fancy brushing up on old skills, or obtaining new ones: whether you want to improve your prospects in the employment market or just want to increase your knowledge for personal satisfaction, then the Paston College has a course that will suit you.
At present there are some 65 adults at Paston, who have undertaken a wide variety of subjects from A Level and GCSE, to the new General National Vocational Qualifications (GNVQ) and the National Vocational Qualifications (NVQ) and to short courses in simple word processing or computer literacy. These adults have come from all walks of life, are of varying ages with differing family commitments. The College has tried to accommodate their needs and ensure that they progress through partnership at Paston.
If you feel that you might be interested in becoming one of our adult students next September, then we are holding Adult Advice Days on Saturday 29th April and Saturday 20th May 11.00 a.m. to 3.00 p.m. at the Griffons, Grammar School Road. On Tuesday and Thursday evenings in June we are holding a 3 week study skills course, designed to help potential students return to education.
Come and see us on the Adult Advice Days to find out about all the courses we offer. Or you can ring 402334 or write to us at any time and we will be pleased to help you.
Whatever your situation, why not think seriously about returning to education in 1995? You may be surprised by what you can achieve.
---
SUMMER TERM PASTON ADULT EVENTS CALENDAR
Saturday 29th April. Adult Advice Day. 11.00am to 3.00pm
Saturday 20th May. Adult Advice Day. 11.00am to 3.00pm
Tuesday 13th June to 4th July. Adult Study Skills course. Tuesday & Thursday evenings. 7.00pm to 9.00pm
Saturday 24th June. Book Sale. 9.00am to 11.30am
Thursday 29th June. Open Evening. 7.00pm to 9.00pm
Saturday 1st July. Music School Concert. 2.30pm
---
CHURCHES TOGETHER IN NORTH WALSHAM
Holy Week & Easter 1995
Society of Friends (Quakers)
Easter Sunday, 10.30am
Meeting for Worship at St John Ambulance Hall
(Beside Vicarage Street car park), North Walsham.
Congregational Church
Good Friday, 7pm Christs passion in word and song followed by coffee and hot cross buns.
Easter Sunday
10.30am Easter Worship
6.30pm Easter Praise, and Communion, Preacher at both services, Rev Richard Woodhouse.
Catholic Church of the Sacred Heart
Tues, April 11th, 7.30pm Service of Repentance.
Thurs, April 13th, 8.00pm Mass of the Last Supper.
Good Fri, April 14th, 3.00pm Good Friday Liturgy.
Sat, April 15th, 10.00pm Easter Vigil Mass.
Easter Sun, April 16th, 11.00am Mass
Open Door Christian Literature Centre
at The Evangelical Congregational Church on Saturday 8th April at 7.30pm
Come and see what we can offer:
Books, Cards, Cassettes, Videos for hire. Refreshments
Methodist Church
13th April, Maundy Thursday, 7.30pm Holy Communion
14th April, Good Friday, 10.30am (approx) Service of Hymns and readings following Procession of Witness
16th April, Easter Sunday, 10.45am Morning Worship with Holy Communion Preacher - Rev Chris Sharp
6.30pm Evening Service Preacher: Rev Don Moxon
Parish Church of St Nicholas
13th April, Maunday Thursday, 7.30pm Mass of The Last Supper Vigil of Prayer to Midnight.
14th April, Good Friday, 12.00pm Childrens 3 Hour Event.
2.00pm The Last Hour Good Friday Liturgy
8.30pm Compline
15th April, Saturday, 8.30pm Easter Ceremonies
16th April, Easter Sunday, 8.00am Holy Communion
10.00am Parish Communion Procession & Sermon
6.30pm Solemn Evensong and Sermon
New Life Community Church
The New Life Community Church runs an alpha course which helps people explore the Christian faith in an enjoyable and relaxed way. The course is run (with no strings attached) commencing with a meal on Friday, 5th May, 7.30pm at the Jubilee Room, Community Centre. For further information contact Ian Willis on 500109.
Mondays Childrens Club for school years 3-6 at the youth centre, 4.30 - 6pm. includes pool, unihockey, badminton, table tennis, board games, etc. plus a tuck shop and juke box. For further information contact Verna Barwick on 01603 409959.
Sunday mornings We meet at the community centre for a lively time of praise and worship with a look into the bible together. Creche and childrens activities finishing with refreshments and a chance to chat together. We also meet in members homes for bible study, youth evenings and various social events at other times.
April 15th, Easter Saturday, 7.30pm at the High School is there Life afer Death? video presentation of Ian McCormack; his powerful encounter with God before and after death from deadly stinging jellyfish and being brough back to life! Entrance is free to all.
April 16th, Easter Sunday, 10.30am at the Community Centre Easter Whats the point? with Grantly Watkins. Creche and refreshments provided.
New Life Community Church is a member of the Evangelical Alliance and associated with New Frontiers International. For further information on any church activity phone 402028 or Graham Barwick (Church Leader) on 01603 409959.
---
News from the Carpenters Arms
A new season has begun at The Carpenters Arms. Thank-you to everyone who has been supporting the project during the last few months. We appreciate your custom and recommend afternoon tea and cake and an evening stroll to the bar for a pleasant cocktail and a game of pool or darts, as the evenings get lighter and longer. Remember you can enjoy a smoke free atmosphere.
Mrs Cathy Gotts recently resigned as manager. We are grateful for her contribution in setting up the day to day running of the bar. Two people, Mrs Ann Bensley and Mrs Mary Burge are now employed on a job share scheme working twenty hours a week. They are both experienced managers and have plenty of ideas to take the development of the bar forward. There is a very good group of volunteer staff who faithfully offer their time and energy to the everyday running of the bar. If you would like to offer two or three hours a week serving, washing up or cleaning the bar, please phone 404821 and speak to Ann or Mary, or phone Chris or Marion Sharp on 403312.
We need extra staff to help in the holiday periods, and so that we can re-open on Wednesdays. The bar would then be open six days a week from 10-5pm and 7-10pm.
We are now receiving a steady flow of visitors to the project. The churches in Newmarket are hoping to open a bar and representatives have come to see what we are doing. The property team, under the leadership of Des Hooker is doing a marvellous job, and there is a strong commitment to developing the barn premises.
Its a wonderful time of the year, full of promise and vitality. Please remember the project in your prayers.
---
ANDRES OUR HEAD COOK
Andre Lloyd, a professional caterer with considerable experience experience, opened Head Cook and Bottlewasher a year ago with the support of her husband, also a catering manager. Such has been the response to her friendly helpful style of service and wide range of cooking equipment on offer that, in June this year, the business will be expanding into the adjoining premises which will enable Andre to improve her service, particularly to the Catering trade, although it will be open to the public too.
So whether you are looking for something in particular or just for inspiration and a chat she will be pleased to see you
---
New Tourist Centre opens in North Walsham
And now they are six! North Norfolk District Councils Tourist Information Centres open for the season on Monday April 3rd with a sixth centre in North Walsham making its debut.
In the new North Walsham office in Brentnall House, Vicarage Street, Maureen Eales, who has previously worked in the Mundesley TIC, is joined by former Broads Authority employee Veronica Storey, to provide a bright and knowledgeable welcome to both visitors and locals looking for the best things to see and do in the district.
Because in addition to the District Councils own publication So Much to See and do in North Norfolk, the TICs - also in Cromer, Sheringham, Wells-Next-The-Sea, Fakenham and Mundesley offer a range of brochures, leaflets and events calendars detailing all the local attractions, carnivals, regattas and special events taking place during the year.
Not only that, the TICs are also able to get you a bed for the night. Each office holds copies of Norfolk Coast and Countryside Holidays - another District Council publication which gives details of all hotels, guest houses and self catering holidays in the district - and can make bookings direct from the office.
The Cromer Tourist Information Centre is also shortly to become an agent for National Express allowing anyone who visits it to book travel packages too.
We are delighted to be able to extend the reach of our Tourist Information Centres said Di Rolph, Publicity Officer North Walsham Town Council found us the premises and have provided a contribution to set up the centre. We will monitor the North Walsham TIC during the coming season and hope it will be well used by visitors and local residents alike, as the other centres already are.
North Walsham TIC is open from 10am to 5pm between 3rd April, 23rd April, 10am 2pm between 24th April 28th May 10am 5pm between 29th May 10th September and 10am 2pm until September 30th. All Sunday opening times 10am 4pm.
*Other tourist information centres can be found in Holt Hoveton and Walsingham.
For further information please contact Di Rolph/Bruce Stratton NNDC (01263) 513811. Christine Birchall CTA (01603) 871372.
---
IMPROVEMENTS TO BE MADE AT GARDEN OF REMEMBRANCE
The Town Council has recently met representatives of Ex-Service Organisations and has agreed that with the continuing mis-use of the gardens surrounding the War Memorial it should be protected by erecting a wrought-iron fence around its base and the surrounding area will be opened up by removing some of the copper beech hedge.
It has been suggested that the provision of the fence would be a fitting way of commemorating the 50th Anniversary of VE Day and VJ Day and an appeal will be launched to raise funds.
The protection of the memorial on which so many names appear of local men killed in the wars in Europe and particularly the War in the Far East is surely a very significant and worthwhile way of commemorating these two anniversaries.
---
BOWLEDOVER
If you are new to the town and are interested in playing cricket or a native who is looking for a new club, then come and join North Walsham Cricket Club.
The Club plays home matches on the war memorial park on Sunday afternoons from late April until September, league matches in the Market Cross League fill up most Sundays but there are a few friendlies at the beginning and end of the season.
This season will see the team (with an average age of under 25 for the first time for many seasons) under the command of the Clubs new enthusiastic captain Billy Batchelor (who is just over 25!)
The Club had a successful League Division 1 and County Cup side during the late 80s and early 90s but with the demise of this side at the end of the 1993 season, it proved to be hard going during 1994 with the results going against them, and this season they will be competing on a more equal basis in Division 2. 1994 did however give plenty of youngsters the chance to play at a reasonable standard earlier in their cricketing careers than would normally be possible, as a result of this and with a few older experienced heads, there were signs towards the end of the season of the green shoots of recovery becoming apparent.
If you are reading this as soon as its been delivered then youve probably got the chance to attend the last of the pre-season indoor nets, which is at the North Walsham Sports Centre on Good Friday evening at 6 oclock until 8 oclock. If its too late for that or you just want more information about the club than contact skipper Billy Batchelor on 404339, or if you prefer to talk to somebody face to face then pop into Sportswise in St Nicholas Court shopping precinct where you will find one of the older players and Club Treasurer Gerald Wild who will give you answers to your questions.
So if youre interested in playing or even just watching then you know that North Walsham Cricket Club will be pleased to welcome you.
Fixtures for the start of the season are as follows
30th April - Bacton (Home) Friendly
7th May - Brundall P.T.E. (Home) Friendly
14th May - Beck Hythe (Home) League
21st May - Burnham Market (Home) League
P.S. We have 3 boundary board advertising spaces left, the cost is only 15.00 per board, per season, including production of the board. If you are interested please contact Gerald Wild on 403662 (Daytime).
---
GUIDING HAND
The Guiding family in North Walsham continues to grow and flourish. For that is what we are; a family. Our members range from the 5 year old RAINBOW to the over 65 year TREFOIL GUILD member.
The Rainbow Guides took part in our Thinking Day celebrations this year, bringing their Rainbow Rabbit for support, as Rainbows do not carry flags. They delighted us all with their presentation on the Australian Rainbows called Gumnuts. They are a busy group with a waiting list to join.
As North Walsham expands so to do the Brownie Packs. We recently opened a fourth Brownie Pack to accommodate the increase in numbers. There are still a few places left in this Pack which meets on a Wednesday evening.
At the recent Thinking Day celebrations two of our Young Leaders, Catherine Rose and Hayley Gibson were presented with their Young Leader Certificates on completion of their training, they have now both started as Adult Leaders and continue to work with Brownies. Sarah Hardwick will shortly complete her Y.L. training and work with Brownies. These young women are all studying at College on various courses and are to be congratulated on their dedication.
The two Guide companies have the wonderful opportunity this summer to take part in the Scout and Guide International Jamboree at the Norfolk Showground. There are to date 3200 young people from all over the world taking part in this event which has taken 4 years to plan and organise. 28 Guides from North Walsham will be going. The activities planned range from Abseiling and Glass Engraving to Helicopter Simulation and Windsurfing. So far a total of 68 activities are planned, a tremendous opportunity to make friends with other Guides and Scouts on a truly international scale.
At the other end of the scale is the Trefoil Guild who meet on the 3rd Monday in the month at the Guide Hqs. They are ladies who may have been (but not essentially) Brownies, Guides or Leaders and wish to maintain their links with the Guiding family. At a Trefoil Guild Anniversary Camp held at the Anglia Guides Centre at Hautbois, an 83 year Trefoil Guild member went down the abseilling tower!! This however is not compulsory.
But the family of Guiding like all families needs a breadwinner. Ours is the Friends of Guiding. They raise funds to maintain our home (Guide HQs) and support units where necessary. It is an uphill struggle as costs continue to rise, but we try to find different ways of fundraising to cater for varying interests. There will be a CAR BOOT SALE at North Walsham Rugby Club on 2nd July and a Barn Dance at the Community Centre in October. The A.G.M. of the Friends will be held at the Guide Hqs on Aylsham Road on Friday 12th May and is open to anyone interested in our family. For further information about any aspects of GUIDING please contact Beryl Lodge, District Commissioner on 650546.
---
A CLUB WITH GREEN FINGERS
North Walsham and District Horticultural Society was established around 1857 to increase the interest in horticulture generally. at the last annual general meeting, the society adopted the sub heading Gardeners Club.
The members attend our monthly meetings held every 3rd thursday in the Jubilee Room at North Walsham Community Centre at 7.30pm. All ages are welcome to become members whether you are a gardener with lots of knowledge or you just have a window box. Come and join the society and find out more. Membership is 2.00 per year.
The society has a variety of events from talks and slide shows, annual outings and a small table show and social and summer garden party.
The programme up to 21st September 1995 is as follows
20 April 1995 A year in the life of a head gardener by Paul Thompson from Holkham Hall
18 May 1995 Producing flowers and vegetables from seeds by Paul Corfield
15 June 1995 Summer table show and social with questions and answers by members
21 Sept. 1995 Fuschias by Carl Hendrick
for further information about the society contact either the Chairman: Mary Majoram on 402808 or the Secretary: Mary Young-Bullimore on: 405205 or see poster in the Library and Community Centre or local press for details.
---
N.S.P.C.C. Coffee Morning
There will be a Coffee Morning on May 18th, 9am - 12noon in the St Nicholas Room, a Cake Stall in Church entrance and Jumble Sale in St Benet Hall for the N.S.P.C.C.
Please support this as it is the societys main fund raising event for the year. If you wish to have anything collected please ring Audrey Woods on 403265.
---
MORE THAN YOUR AVERAGE YOUTH CLUB
North Walsham Army Cadets get a lot more from their free time, not only having great fun but learning many practical skills and gaining useful qualifications into the bargain. The Cadets take part in absailing, swimming, shooting, camping, rock climbing, hill walking, canoeing and miliatary exercises. They take an active role in the Duke of Edinburgh Award Scheme as well as the Royal Life Saving Society, St John Abulance and they can also earn valuable Army Proficiency certificates. The Cadet Force Drill Hall is situated at the High School, Spenser Avenue where they meet every Thursday between 7 and 10pm. For further details of the North Walsham Army Cadets contact: Lt Dunthorne on 01603 748112.
---
NFU COUNTRYSIDE
(For people with more than a garden and less than a farm)
When your life is in the country there is so much you need to know. How to improve your grassland? Where to find specialist growers of trees and shrubs? How best to take care of your livestock? Who to turn to for help and advice? The answer is easy, the NFU COUNTRYSIDE. When you join the NFU Countryside, you can obtain free copies of their Country Law and Country Guide fact sheets, which can help you deal with a wide range of situations, whether youre extending a garden, tying up a tenancy agreement, or starting to keep poultry, sheep, horses or goats, for example. You will receive a journal each month full of practical tips and advice on everything from animal first aid to gardening, from creating a pond to growing trees, all written by experts. As well as all this they can offer you insurance and financial services and the NFU have over 80 years experience of meeting the insurance needs of the UKs farmers and growers. The list is endless of the things the NFU can offer you. If you would like any more information call North Walsham 402929, where the Group Secretaries will be able to assist you.