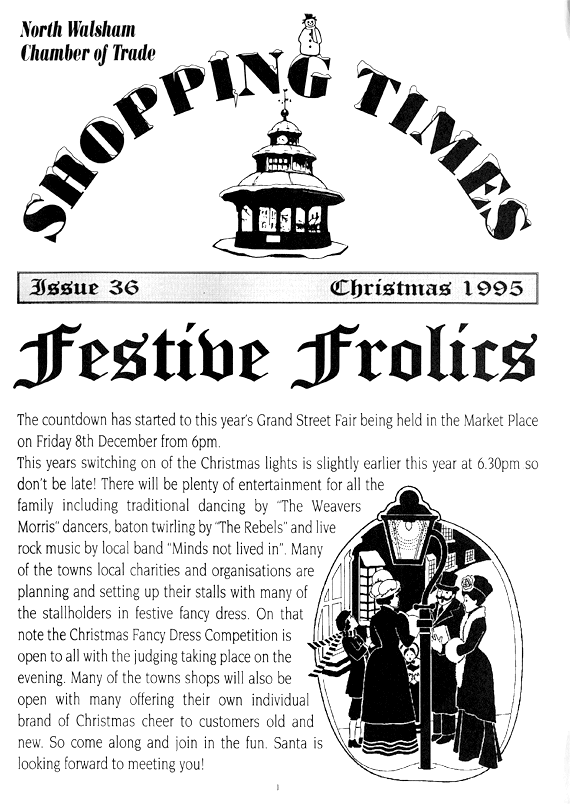 Festive Frolics
The countdown has started to this years Grand Street Fair being held in the Market Place on Friday 8th December from 6pm.
This years switching on of the Christmas lights is slightly earlier this year at 6.30pm so dont be late! There will be plenty of entertainment for all the family including traditional dancing by The Weavers Morris dancers, baton twirling by The Rebels and live rock music by local band Minds not lived in. Many of the towns local charities and organisations are planning and setting up their stalls with many of the stallholders in festive fancy dress. On that note the Christmas Fancy Dress Competition is open to all with the judging taking place on the evening. Many of the towns shops will also be open with many offering their own individual brand of Christmas cheer to customers old and new. So come along and join in the fun. Santa is looking forward to meeting you!
---
SPEAKING UP FOR OUR TOWN
A Christmas message from Audrey Woods, Town Mayor of North Walsham.
Christmas time brings out in most of us, the wish to do something good. In families and in the community there is often a spirit of good neighbourliness and kindness. You will see this well displayed at the Christmas Street Fayer on Friday, December 8th when most of the stalls will be raising funds for all sorts of charities and local good causes. We need to remember this when discussing the condition of our town. The recent Town meeting dwelt mostly on the many difficulties we face especially in the shopping centre. A lot of time was spent drawing up a list of all that is wrong for the Traders in the Town Centre, comparing us unfavourably with some other North Norfolk Market Towns. But we all know that this is only one part of our community. Underneath there lies a vibrant and extensive network of caring and helpfulness. Not only in the large amounts of money raised for charity every year but in the countless acts of kindness between neighbours. In my year as Town Mayor it is my privilege to meet lots of people willing to give time to those in need, and those who run the many clubs and group activities for all ages. I can see quite plainly that there is much that is right with our town. There is a great fund of good neighbourliness in North Walsham of which we can justly be very proud. A Town is far more than its shops and offices, as important as they are. A Town is to be judged by the people in it and its sense of caring for one another. By that standard North Walsham ranks very high. So, speak up for our Town. A very happy Christmas to everyone in North Walsham.
---
North Walsham Library
Christmas Opening Hours
Close 5pm on Friday 22nd December
Re-Open 10am, Thursday December
Closed on Monday 1st January.
Normal Opening Hours
Monday 10.00 - 7.30
Tuesday 10.00 - 5.00
Thursday 10.00 - 7.30
Friday 10.00 - 5.00
Saturday 10.00 - 1.00
Tel. 01692 402482
---
GRAND STREET FAIR, FRIDAY 8TH DECEMBER 6PM - SWITCH ON THIS YEAR 6.30PM
The organisation of the Grand North Walsham Street Fair to celebrate the switching on of the towns Christmas Lights is well advanced. Some 20 Charities and Local Organisations have already taken space and the Chamber are pleased to welcome several newcomers to the events.
The switch on to coincide with the arrival of Father Christmas, who will be in attendance in his Grotto during the evening, is timed for 6.30pm this year and, in addition to the Salvation Army Bands traditional Christmas Carols, the Market Place will come alive to the merry jingle of bells as The Weavers Morris entertain with their own brand of baldrics! The entertainment will continue with the twirling and whirling of The Rebels batons, and Minds Not Lived In will follow with a selection of classic rock music - finally bringing the evening to a close with their own brand of ambient jazz funk.
Judging of entries in the Christmas Window Dressing Competition will take place on the evening with the announcement of winners at 8pm to be followed by the award prizes for fancy dress in three categories - shop keepers, stall holders and young people under the age of 16. Christmas is the theme - keep simple to enable everyone an opportunity to dress up.
Tickets for the Christmas Draw with a first prize of 100 are now on sale and prizes will be drawn on Monday 11th December - 3pm at 17 Market Place by our lady Mayor, who will also perform the switch on ceremony for us - (all winners will be notified by telephone thereafter).
Despite the continuing difficult economic climate, the North Walsham Chamber are delighted with the many contributions received from many local traders - not only towards the financing of the Christmas Lights but also donations for the Christmas Draw. Public acknowledgement will be given on the evening but the Chamber takes this opportunity to say thank you to those local organisations who, being unable to participate on the night, have generously contributed towards the costs involved.
On a less buoyant note - it is with regret that several of the towns shops do not participate in the Christmas Lighting Scheme - others do their own thing - some for whatever reason do not even remain open for the evening - The event has been specially designed, not only to celebrate the switching on of the towns Christmas Lights but also to encourage the whole community to take part - the absence and, in some cases the presence, of Christmas Trees on the towns buildings is a clear indication of lack of participation - perhaps the Chamber should be encouraging the local community to better support those Traders whose clear endeavours indicate support for the town from which they earn a living. The Chamber, through the good offices of this publication, invites all those traders who do not already do so, to participate in the towns Christmas Lighting Scheme by having a bracket erected on their building - It may not be too late for 1995 - it certainly is not for 1996!
A Merry Christmas North Walsham and a more prosperous 1996.
Cilla Quittenden
---
The Carpenters Arms
The aim of the Carpenters Arms is to provide a smoke, drug and alcohol free bar for the young people of the town. It is a charity with a management committee whose members are ordinary Christian people from the Methodist, Catholic, Church of England, New Life, Salvation Army, and Quaker denominations. Volunteers from all walks of life help keep the bar open . . . . please note the new opening times on the voucher. The bar is a place were you will find local people working together to help the younger person to enjoy an environment which promotes a healthy balanced lifestyle. The Carpenters Arms is a very practical way of offering a good alternative to the drug scene which many of our young citizens are pressured to flirt with and get dependant. So if you are reading this and want to help why not phone Ann or Mary, the managers on (01692) 404821, for more details on how to become a volunteer. We particularly need morning cleaning help as well as bar staff.
We are looking forward to celebrating Christmas. Volunteers who undertake to fundraise, which is a vital part of the work, will be organising a cake stall for the town celebrations on Friday December 8th so please visit the stall and then use the voucher printed in this newspaper, and warm up with a nice hot mug of tea or coffee. (If you are new to the town, you will find the bar in Market Street.)
We hope to introduce the sport and music channel from Sky TV soon, but we need a colour 21 TV with remote control. Any one got a spare? We could put it to good use. We are also looking for bar billiards and an upright freezer to replace the one thats worn out. If you can help please phone the bar, number above.
All the team from the Carpenters Arms join me in wishing you joy and laughter, peace and contentment, as we celebrate again the master Carpenters - Jesus - birth. We pray too that you will work with us to continue to give support and hope and friendship as other agencies do, to the young people of this town, in the coming year. A Happy New Year to all. Marian Sharp
---
SEASONAL CROSSWORD
Across
1. Line up, we hear, for stage prompt. (3)
7. Albert, Henry or Town. (4)
8. King who might become an Earl ? (4)
11. Festive pudding gets a top billing. (4)
12. For sending or playing at Christmas. (5)
13. Instrument used in early recordings. (4)
14, 15,16 Into theatrical orbit from the Edinburgh Festival. (6,3,6)
20. See 4 down.
23. Composer sounds like a catalogue! (5)
25. If be the food of love, play on. (5)
26. Flying Officer Kytes was wizard! (5)
28,29,30. Dispose of old manuscripts and get even!
33. Shes one in theatrical distress! (6)
35. Right, Idaho produces the crowning glory. (4-2)
37. Find the page, but dont sell the house. (4,4,5)
Down
2. Where to encourage seasonal osculation! (5,3,9)
3. The lorry drivers opera ? (6)
4,20. Across. Colourful piebald entertainers of the Fifties. (5,3,5,9)
5. Composer in euphoric mood - not ignorance! (5)
6. Essential visitor at the Barn Dance. (6)
9. Quiet delay made up for those on stage. (6)
10. The song predicts hell come eventually. (6)
14. John, George, Paul and Ringo. (7)
17. Sensing alternative pennants. (7)
18. Points discovered in the Times. (5)
19. Put into effect in outspoken action. (5)
21. Lo, the alternative is a tavern. (5)
22. Subject gets into pictorial record. (5)
24. A recess in the building operation. (3 - 4)
27. Cut short a game of cards. (7)
31. She comes from a miracle operation. (4)
32. Posh sort of emporium. (4)
34. Go to court over a girl. (3)
36. Shes as sweet as cider, they sing. (3)
This crossword was compiled by Mr Norman Pritchard of Fishbourne, West Sussex and sponsored by the Saddlers Shop Project. Entry to the competition is free (donations are always acceptable of course) and should be handed to Rick Greenhill at St Nicholas Church or sent by post to:-
Crossword Competition, c/o 32 Spurdens Crescent, North Walsham, Norfolk NR28 9JD
Entries are to be submitted by Wednesday, 20th December and a prize of 5 will be awarded to the first correct entry drawn form the hat and opened on Thursday, 21st December.
---
SERVICE CHARGES ON LEASEHOLD FLATS
Most owners of leasehold flats have to pay service charges to the freeholder in addition to the annual ground rent. Service charges cover payments for cleaning, repairs, maintenance, insurance and management expenses. The service charge may be in two parts, one a regular annual amount, the other variable, to cover major items such as roof repairs or outside painting of the whole block. The lease sets out the amount of the service charge and provides for increases over the years.
A leaseholder who has taken a lease with over twenty-one years left to run and pays a variable service charge in addition to the ground rent will have statutory rights additional to those set out in the lease. In this case, the leaseholder must be consulted about any work the cost of which will exceed the greater of 1,000, or 50 times the number of flats in the building, unless the work is urgent.
The freeholder must notify the leaseholders of the work to be done and obtain two estimates for the work, one of which must be from an independent person (i.e. not a relative or an employee) and either send copies of the estimates to each leaseholder or display them prominently in the building. If there is a recognised tenants or residents association, the free holder must send the secretary a copy of the notice of intended works and of each estimate. The notice must include an address to which leaseholders can send their comments and give a closing date at least one month ahead by which comments must be received.
Leaseholders can challenge estimates which they consider too high, and can obtain their own estimates and send these in with their comments. The freeholder must consider the leaseholders comments and estimates but does not have to have the agreement of all the leaseholders to the work or accept the lowest estimate.
A leaseholder may dispute the service charge if he feels that there is nothing in the lease requiring him to pay, the amount of the charge is unreasonable, not all the work was necessary or that it is of an unsatisfactory standard, that a lower estimate should have been accepted or that the freeholder should have followed the statutory consultation procedure and did not do so.
On receipt of the bill, the leaseholder should write to the freeholder, setting out why he disputes the bill. The leaseholder is only liable to pay a reasonable amount for the work done and is not liable for any charge for work done more than eighteen months before payment was requested.
If you would like further information or help on this or any other matter, please contact North Walsham & District Citizens Advice Bureau, Council Office Yard, New Road, North Walsham, telephone 01692 402570. Bureau opening hours are Monday, Tuesday, Thursday and Friday, 10.00am to 3.00pm. An answerphone operates outside opening hours. There is no need to make an appointment unless you wish to see one of the debt or employment specialists
---
NEW LIFE COMMUNITY CHURCH
Friday, December 22nd
7.00pm Special Christmas Celebration
North Walsham Community Centre
Refreshments
Sunday, December 24th
10.00am Christmas Special for all the family
North Walsham Community Centre
Refreshments
Monday, December 25th
We will be joining other christians locally
Wednesday, December 27th
Family Walk, Tea and Funtime, afternoon and early evening. Details from 01692 402028
CORNERSTONE CHURCH
Sunday, December 24th
10.30am Morning Worship at Millfield School
6.00pm Carol Singing in the Millfield Area
METHODIST CHURCH
Saturday, December 16th
7.30pm Jack & Marjorie Barratts Concert Party
All things English with seasonal refreshments
Sunday, December 17th
10.45am Family Service - led by Rev. Chris Sharp
6.30pm Carols by Candlelight
A service of lessons and carols led by Rev. Chris Sharp. Followed by coffee and carols at the Manse (101 Mundesley Road - home of Rev & Mrs Sharp)
Sunday, December 24th
10.45am Morning Worship - led by Miss Jackie Phillips (Student Minister)
7.30pm Holy Communion - led by Rev. Chris Sharp
Monday, December 25th
10.30am Christmas Morning Worship - for all the family - led by Rev. Chris Sharp
Sunday, December 31st
10.45am Morning Worship - led by Mr Godfrey Talford
CONGREGATIONAL CHURCH
Sunday, December 3rd
10.30am Sunday School and Worship for Advent Sunday - The lighting of the first Advent Candle.
6.30pm Evening Worship. Rev Richard Woodhouse. All welcome. Refreshments served after services.
Sunday, December 10th
10.30am Morning Worship
6.30pm Evening Worship. A warm welcome to the services
Sunday, December 17th
10.30am Service of Nine Lessons and Carols, followed by coffee and hot mince pies.
6.30pm Carols by Candlelight, items by the Singing Group. All welcome.
Sunday, December 24th - Christmas Eve
10.30am Family Carol Service, with items by the Sunday School, followed by coffee time.
8.00pm Service of Carols and Holy Communion. Rev. Richard Woodhouse. All welcome.
Monday, December 25th - Christmas Day
10.00pm Service of Carols for all the family. Rev. Richard Woodhouse Emmanuel God with us. All welcome.
SOCIETY OF FRIENDS - QUAKERS
Sunday, December 24th
10.30am Meeting for Worship.
ROMAN CATHOLIC CHURCH
Sunday, December 17th
3.00pm Carol Service, Sacred Heart, North Walsham.
Sunday, December 24th
6.30pm Family Mass (first Mass of Christmas). Sacred Heart, North Walsham.
8.30pm Christmas Mass - St Edwards, Station Church, RAF Coltishall.
12.00pm Midnight Mass - Sacred Heart, North Walsham (Carols from 11.30pm)
Monday, December 25th
9.15pm Christmas Mass, St Johns, Aylsham
11.00pm Christmas Mass, Sacred Heart, North Walsham.
MEETING HILL BAPTIST CHURCH
Saturday, December 16th
3.00pm Childrens Carols and Toy Service (featuring the Alconbury Childrens Gospel Choir)
6.00pm Evening of Celebration, Praise and Gospel Music with the USAF Alconbury Gospel Choir.
Sunday, December 17th
10.00am Morning Service. Led by Choir
3.00pm Annual Carol Service
Sunday, December 24th
10.30am Christmas Eve Service
Monday, December 25th
10.00am Christmas Day Service.
SALVATION ARMY
Saturday, December 2nd
6.30pm Young Peoples Carols Service
Sunday, December 24th
11.00am Advent Worship
6.30pm Corps Carol Service. Carols by Candlelight
Monday, December 25th
10.30am Family Service
PARISH CHURCH
Thursday, December 21st
2.00pm Pram Service Nativity Tableau. Simple Christmas celebration for all under school age. Tea.
Saturday, December 23rd
6.30pm Christingle Service
Christmas Eve childrens ceremony in aid of the Childrens Society.
Sunday, December 24th
6.30pm Carol Service by Candlelight
11.30pm Midnight Mass at Banningham and Scottow. Everyone from North Walsham welcome.
Monday, December 25th
8.00am Holy Communion
Sat Communion using the traditional language service.
10.00am Parish Communion.
Main celebration of Christmas Day for all the family. Carols, Procession, Communion.
4.30pm Candlelight Carols at the Crib.
---
North Walsham Market Cross W.I.
Have you thought of joining the W.I.? We are a friendly group of ladies who meet once a month for fun and friendship. We have speakers on a wide range of subjects including travel, gardening, cookery and local history. During the year a Dabble Day is organised giving us a chance to learn a new craft such as patchwork, quilling, pewter and flower arranging. As a contrast we meet during the month for scrabble and darts which are played both competitively and socially. During the year we have an outing to the theatre and Thursford carols. This year we have been on the North Norfolk Railway as a county outing.
We meet in the Community Centre on the 4th Thursday of the month at 7.15pm.
There is something for everyone in the W.I. Why not come and join us?
For further information you can contact 01692 403674.
Members will be serving coffee and demonstrating and selling crafts. There will be W.I. publications and leaflets available and committee members will answer your questions. We look forward to seeing you.
---
PASTON SURGERY CHRISTMAS OPENING TIMES
Monday 25th December CLOSED
Tuesday 26th December CLOSED
Wednesday 27th December 8.45am - 6.00pm
Thursday 28th December 8.45am - 6.00pm
Friday 29th December 8.45am - 6.00pm
Saturday 30th December 8.45am - 12 noon
emergencies only
Sunday 31st December CLOSED
Monday 1st January CLOSED
Tuesday 2nd January 8.45am - 6.00pm
---
Friends of North Walsham Community Centre
1st December
Cabaret night with John Wayne
tickets: 4.00 - 6.00 with supper 01692 402991
16th December
Country music night with Wes Cardy
Table reservations 01692 402991
23rd December
Sounds Imperial Christmas Party
4.50 tickets 01692 402991
31st December
NEW YEARS EVE DINNER DANCE
tickets 16.50. Music by Freddie Marrison
01692 402991
---
THE OLD SADDLERS SHOP, NORTH WALSHAM
The project for the refurbishment of the Old Saddlers Shop in North Walsham has been launched successfully by an enthusiastic group of members of the Parish Church of St Nicholas. Main activity at this stage is one of fund raising and, to date, car boot sales, coffee mornings and social functions have raised more than 1000.
Near future events include a bottle stall and raffle at the Town Street Fair on December 8th and a Christmas Ploughmans Lunch in the St Nicholas Room.
For nearly three decades the property known as the Old Saddlers Shop and owned by the Parish Church Council of St Nicholas, North Walsham, has been leased as a shop supplying electrical goods and services. In earlier years, around 1927, the building housed a saddlery and leatherwork shop, serving the local town and agricultural requirements.
Over the years the building has deteriorated and with the recent retirement of the tenant and the subsequent closing of the electrical business, the building has now reverted to the total responsibility of the Parish Church Council.
The aim of the project is to refurbish the building and to turn the shop into further accommodation which will help the Parish in its Mission work, particularly with regard to young people. The Parish Church has a thriving Boys Choir, a lively Girls Friendly Society, a Sunday School and a developing Youth Group. All of these groups need further space other than that is presently available.
Additionally, North Walsham suffers from a lack of reasonably priced space to let to other organisations including Young Mothers, Playgroups, O.A.P. groups, etc. On this basis the project would have a distinct benefit to the local community as well as furthering the work of the Parish Church in the town.
Building estimates indicate an overall cost of refurbishment in the region of 16,000 and it is hoped that costs will be much reduced by appeals to local companies for the donation of such materials as may be required and the use of voluntary labour.
The successful completion of this project will provide an excellent facility for both the Church and as an outreach into the wider community and at the same time restore a building which is part of the history of our town.
To make a contribution to the project, cash or help, call Rick Greenhill on 01692 402701.
---
DID YOU KNOW?
North Walsham Town Football Club consists of 3 senior Saturday, 3 Sunday (NWTFC & Black Swan) and 9 youth teams all being catered for at the Greens Road complex. The 1st team play in Division 1 of the Anglian combination under the leadership of local legend Tommy Harrison and are at present top of the table, not bad going for a team that had to apply for re-election just over a decade ago.
Off the field much has also changed with the construction of a bar and function room completed by football club members and planning permission submitted for floodlights.
Running a successful football club takes time and of course money, so we must thank all those local businesses that have contributed by way of sponsorship especially; The Prince of Bengal (1st XI kit), J. B. Postle (2nd XI kit), Bacton Ship (3rd XI kit), Ashford Windows (Sunday XI kit) and North Kebab House (1st XI Sub suits).
We have to look back to 1879 and the old Angel Inn to find where the Club was first formed, hence the name The Angels. Since then the club has seen both good and bad days, but is now only looking forward.
The club is now being run like a small business and promoting a more professional attitude with potentially the best programme around and a sponsorship brochure offering a wide range of initiatives in promoting local businesses through the medium of sport.
So, if youre looking for something to do on a Saturday afternoon or a Sunday, why not come along and watch a game and enjoy the friendly atmosphere and facilities.
All at North Walsham Town Football Club wish you all a Merry Christmas and a prosperous New Year.
---
MORRIS SIDE TO THE TUNE OF JINGLE BELLS
The Weavers Morris side
Clashing sticks with fiery yells,
This jolly Christmastide
With their baldrics and their bells:
Leaping through the air,
On a cold and frosty night,
If you roll up to the Fayre
Theyll fill you with delight.
Chorus Morris side, Morris side,
Leaping through the air,
Of what fun theyll bring to you
At North Walshams Christmas Fayre. Hey!
Morris side, Morris side,
Leaping through the air,
Of what fun theyll bring to you
At North Walshams Christmas Fayre.
The Weavers Morris side
On this evening in December,
Hope you might agree
To dance and become a member,
They want YOU to come along
On a Monday night they meet,
So join in with their song
Put some life into your feet!
Chorus Morris side, Morris side,
Leaping through the air,
Of what fun theyll bring to you
At North Walshams Christmas Fayre. Hey!
Morris side, Morris side,
Leaping through the air,
Oh what fun theyll bring to you
At North Walshams Christmas Fayre.
Weavers Morris is a mixed side.
We train on Monday nights (7.20pm to 9.30pm)
at North Walsham High School.
Musicians and dancers (beginners and experienced) welcome.
If interested, please contact Bill Tatler/Neville Lee
at North Walsham High School -
(01692) 402581, during working hours.
---
North Walsham & District Horticultural Society Gardeners Club
North Walsham & District Horticultural Society was established around 1857 to increase the interest in horticulture generally. At the last general meeting, The Society adopted the sub heading Gardeners Club.
The members attend our monthly meeting held every 3rd Thursday at the Jubilee Room at North Walsham Community Centre at 7.30pm. All ages are welcome to become members whether you are a gardner with lots of knowledge or you just have a window box. Come and join the society and find out more???? Membership is 2.00 per year.
The society has a variety of events from talks and slide shows, annual outings and a small table show and social and summer garden party.
The programme for 1996 is as follows:
15th February A.G.M. and Charles Thacker
bring you queries
18th April Friends and foes in the garden
K. C. Darrant
16th May Lawns and summer flowers
Charles Henderson
20th June Good garden design
Philip Young
18th July Table top show and social
For further information about the society contact: Mary Marjoram (Chairman) on 01692 402808 or Mary Young-Bullimore (Secretary) on 01692 405205 or see posters in Library or Community Centre or local press for details.
---
Royal Mail Recommended posting dates
Monday 11th December
Air Mail outside Europe
Thursday 14th December
Second class letters
Wednesday 20th December
First class letters
Saturday 23rd
Normal delivery
Wed 27th, Thurs 28th & Fri 29th December
Normal collections & delivery
Pension Payments
Payment due on 25th & 26th December and on January 1st can be collected as follows:
25th December on 18th December
26th December on 19th December
1st January on 27th December
---
North Walsham Troop, Army Cadet Force.
The Supporters Committee of this group is holding a Christmas Cake Stall in the Church opening on Thursday 21st December from 8.45am. Book this date to buy your Christmas goodies.
We will also be at the Christmas Street Fair on Friday 8th December with refreshments. Please support us.
The Army Cadet Force accepts boys and girls aged between 13 and 15 for recruit training and the maximum age for cadets is 183/4 years. Activities available include rifle/machine gun shooting, skill at arms, Duke of Edinburgh awards and trips available to countries such as Germany and Canada. Opportunities for promotions and qualifications great for your C.V.
If interested, parade at the Drill Hall, High School Grounds, Spenser Avenue, North Walsham at 7.15pm to 9.30pm on Thursday evenings.
---
TOWNGUIDE
The North Walsham Town Guide for 1996-97 is now being planned with a view to publishing early in the spring of next year. If your association, club, organisation or group has been omitted from previous editions now is the time to have it included. Please complete the form below and submit it to the publishers; Express Printing & Stationery, 38 Market Place, North Walsham NR28 9BT, as soon as possible but no later than January 31st.
---
LETS ALL POOL TOGETHER
NORTH WALSHAM SWIMMING POOL FUND ASSOCIATION held their A.G.M. last week and Ellen Grover was re-elected as Chairman. Mr. Oakley- Vice Chairman, Mr. Stan Lambourn - Treasurer and Mrs. Sara Gaff - Secretary.
The chairman thanked Mrs. Nettie Clack, retiring treasurer, for her past invaluable service and also for submitting the annual accounts so promptly. Additional thanks also to Sexty and Co. who kindly audit our accounts for us. We are very sorry to be losing Nettie as a member of our committee but this is unavoidable as she will shortly be moving away.
We are pleased to announce that the fund now stands at 72,000.
We are slowly making progress towards applying for a grant from the National Lottery. Several sites around the town are being studied very seriously with regard to accessability, parking, highways and various other considerations. What we are hoping for in due couse is to have a 25 metre ORDINARY pool which will be available for all the community to use and also to be acceptable for competitive swimming. Who knows !
We may have an Olympic Champion in North Walsham, after all we do have other first class sports people and given the right opportunities everyone will be given a better chance. I still feel that this must be our target for the MILLENIUM but we need to raise more funds so our next objective will be to search for serious sponsorship money.
Now, a plea for a different kind of help. We are a very small band of volunteers on our committee and we would be pleased to have assistance from any willing helpers out there. Fund raising ideas , please, PLUS people willing to help to run them and especially from anyone IN THE KNOW as to where there is a POT OF GOLD !!!
So come on North Walsham, your swimming pool is becoming a possibility, so dont be shy, come forward and give us a hand to make it happen.