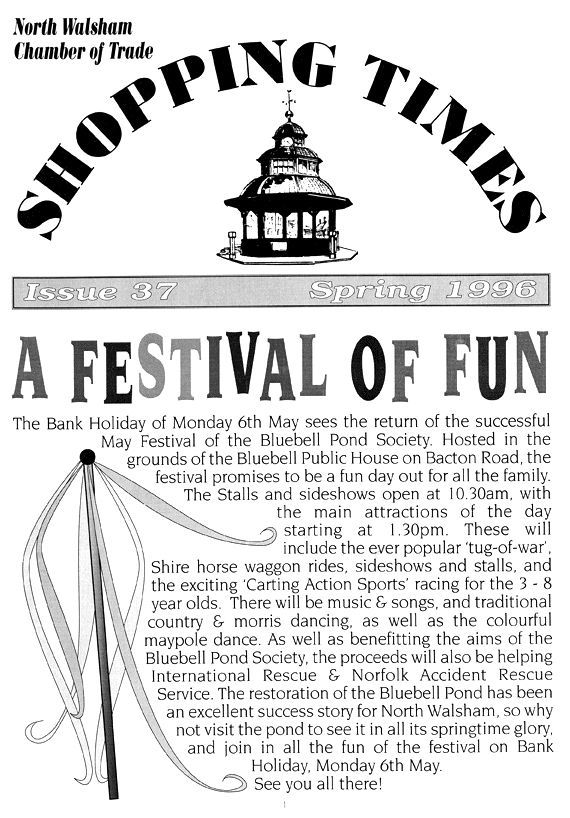 A Festival of Fun
The Bank Holiday of Monday 6th May sees the return of the successful May Festival of the Bluebell Pond Society. Hosted in the grounds of the Bluebell Public House on Bacton Road, the festival promises to be a fun day out for all the family. The Stalls and sideshows open at 10.30am, with the main attractions of the day starting at 1.30pm. These will include the ever popular tug-of-war, Shire horse waggon rides, sideshows and stalls, and the exciting Carting Action Sports racing for the 3 - 8 year olds. There will be music & songs, and traditional country & morris dancing, as well as the colourful maypole dance. As well as benefitting the aims of the Bluebell Pond Society, the proceeds will also be helping International Rescue & Norfolk Accident Rescue Service. The restoration of the Bluebell Pond has been an excellent success story for North Walsham, so why not visit the pond to see it in all its springtime glory, and join in all the fun of the festival on Bank Holiday, Monday 6th May.
See you all there!
---
THEMAYORS LETTER
My year as town mayor has gone by so quickly that already I am writing this last message. Thank you everybody for the very kind invitations to many different events. I have thoroughly enjoyed meeting so many people and groups in the town and learning about the immense variety of activity, often unknown to most people, that goes on in a town like ours.
The Town Council had hoped during this year of my term as Mayor that we would be able to remodel the Town War Memorial and provide protective railings. This would have coincided exactly with the 50th anniversary commemoration of the end of the war. But the feel good factor must certainly still be lacking in our community because business and individuals have only been able, so far, to find about one third of the 4000 needed. I hope my successor as Mayor will be able to continue to encourage the Council and community to complete this project. Something needs to be done to eliminate the vandalism around what is a very important monument to the citizens of our town who died in the service of our country. These monuments will become increasingly important historical records and warnings of our troubled century.
I wish our next Town Mayor & Council every success in their efforts for North Walsham and I hope the new Town Improvement Committee will be able to incorporate the ideas of the Britain in Bloom theme into their campaign. Thank you North Walsham.
Audrey Woods, M.B.E., Town Mayor
---
North Walsham Chamber of Trade
THE CHAIRMAN WRITES
As this issue goes to print there are encouraging signs in the economy with a long awaited up turn in the housing market in evidence.
Other commentators have noted that there have been several false starts to the economic recovery so let us all hope that a return to prosperity is around the corner and the feel good factor will soon be with us.
At a more local level many of the towns businesses are renewing their subscriptions to the Chamber and several new members are joining us. A new Town Guide is in the course of production to help us all extol the virtues and attractions of using the local businesses available.
For too long we have been plagued by negative comments about our attractive town which has so many more good points than bad. Let us all work together in 1996 to offer the best possible service to our various customers and clients so that we retain the business we already have and regain some of those who use our competitors in Norwich and nearby towns.
Cilla Quittenden
---
Badgers set the standard
Badgers are the youngest members of the St John Ambulance Brigade and were founded in January 1987 to celebrate the centenary of the Brigade. Since then St John Badgers has become the fastest growing youth organisation of its kind in England and Wales. The movement is also growing rapidly in Scotland; and there are now Sets in countries across the world, including Hong Kong, New Zealand, Australia, Bermuda and Germany.
The Badgers consist of children from 6 - 10 years of age following a course in Absolutely Everything gaining nine Badgers Badges in total to become a Super Badger .The nine Badger Badges, each divided into four sub-sections, cover the following subjects;
1) First Aid Badger
2) Healthy Badger
3) Caring Badger
4) Safety Badger
5) Communications Badger
6) Resourceful Badger
7) Hobbies Badger
8) Games Badger
9) St John Badger
Once all nine Badger Badges are completed, usually in a time span of 3 to 4 years, the individual becomes a Super Badger and is awarded a certificate and special edition pottery badger for their achievement.
Set meetings are intended to be educational, but at the same time great fun. At North Walsham the evening is always ended with a 30 minute games session which the Badgers, and Leaders alike, thoroughly enjoy.
Uniform. A black and white tabbard is worn by the Badgers, enabling them to be and feel part of the family of St John.
Meeting Details. We meet on a Thursday evening from 5.30pm to 7.00pm at the Divisional HQ, Bacton Road, North Walsham.
Fundraising. As we are a Charity, fundraising plays a vital role. We organise an annual Booksale, for which we collect throughout the year. Also jumble sales, sponsored events, sales and penny trails have also been used on numerous occasions. Also to help with the everyday costs, such as pens, paper, craft equipment etc, we charge a subscription of 30p per Badger per meeting.
Events. Apart from our fundraising events, we organise outings. Some trips are to aid a Badger Badge, some purely for fun. Past outings have included Ten Pin Bowling, Pleasurewood Hills American Theme Park, Kingdom of the Sea and Fun Days at Mannington Hall organised by the County Badger Leaders to get Sets to meet. At Christmas we organise a Party night, sometimes with Santa Claus paying a visit. One year we were lucky enough to have the support of a parent in a band to play at a family night for a Christmas celebration.
Leader. Julie Martins, 9 Greenway Close, North Walsham, Norfolk, NR28 ODE. Tel: 01692 403444.
On Thursday 18th January 1996, North Walsham St John Ambulance Badgers held their Super Badger Presentation Evening.
Guests. Parents and Badgers attended this evening to watch Badgers Mary-Jane Wright and Kiri Thompson, both aged 10, awarded with their Super Badger, by David Calver, Deputy County Badger Leader for Norfolk.
The girls each received a Super Badger Certificate and a pottery Bertie Badger in recognition of their achievements. a result of four years hard work. The Badgers had to gain awards in nine topics (called Badgers badges) on a variety of subjects including First Aid, Safety, Communications and Resourceful Badger.
On the same night nine other Badgers were awarded certificates for individual Badger subjects and five new Badgers were also enrolled into the Set.
Badgers are six to ten year olds who meet at the St John Ambulance HQ, Bacton Road, North Walsham on a Thursday evening from 5.30pm to 7pm. Anyone interested in joining North Walsham Badgers should contact leader Julie Martins on 403444.
---
NORTH WALSHAM & DISTRICT HORTICULTURAL SOCIETY
GARDENERS CLUB
PROGRAMME OF EVENTS 1996
All meetings are held in the Jubilee Room
North Walsham Community Centre at 7.30p.m.
Unless Stated Otherwise
April Thur 18th Friends & Foes in the garden.
Speaker K C Durrant.
May Thur 16th Lawns & Summer Flowers.
Speaker Mr C Henderson.
June Thurs 20th Good Garden Design.
Speaker Mr P Young.
July Thur 18th Table Top Show & Social.
Sept Thur 19th A Year In My Garden.
Speaker Mrs J Barker.
Oct Thur 17th Plants for Herbaceous Borders.
Speaker Mr I Stanton.
Nov Thurs 21st Herbs
Speaker Mr P Davies
December No Meeting.
1997
Feb Thur 18th Annual General Meeting.
(Provisional Date)
Additional dates may be added during the year
Chairman: Mrs M Marjoram. Tel: 402808
Secretary: Mrs M Young-Bullimore. Tel: 405205
---
THE OLD SADDLERS SHOP PROJECT
This project, related to the conversion of the old saddlers shop into a meeting place, is proceeding well. Over the last two/three months the project has received several generous donations from members of the Church and Parish plus a 250 donation from the A.H.Lynell Foundation. These donations together with the proceeds from the events held over the preceding months bring the fund total to 4,000. While this amount is still some distance from the estimated total requirement of 16,000, it provides a tremendous encouragement to the fund-raising team. Our sincere thanks to all who have contributed.
A planning application has been submitted to the North Norfolk District Council and the results of this should be known shortly. The level of funding has reached the stage where the refurbishment of the roof of the building becomes a practical possibility and this subject will be pursued at the next project meeting planned for late March/ early April. Offers of help, in money or kind, contact Rick Greenhill on 01692 402701.
---
SEASONAL CROSSWORD.
(Published in the previous issue.)
The first correct solution to be drawn from the hat on Thursday 21st December was that entered by Mrs Margaret Bowles of 7 Simpson Close, North Walsham. The prize of 5 was duly sent to this lady who very kindly donated the prize to the project fund. Many thanks Mrs Bowles!
The correct solution to the crossword is :
ACROSS. l. Cue 7. Hall 8. Lear 11. Plum 12. Cards 13. Lyre 14,15,16. Beyond the fringe 20. (See 4. Down) 23. Liszt 25. Music 26. Prang 28,29,30. Settle old scores 33. Damsel 35. Hair-do 37. Keep ones place.
DOWN. 2. Under the mistletoe 3. Carmen 4. (& 20. Across) Black and White Minstrels 5. Bliss 6. Caller 9. Played 10. Prince 14. Beatles 17. Ensigns 18. Items 19. Enact 21. Hotel 22. Topic 24. Set-back 27. Abridge 31. Cleo. 32. Shop. 34. Sue 36. Ida.
---
TOWN COUNCIL REPORT
The Traffic Survey Working Group has recently held its second meeting and shortly the County Council will be making Traffic Orders to control parking in Cromer Road, between the Chapel and the traffic lights and in Mundesley Road between the car park and the junction with Northfield Road where parked cars cause considerable danger at the approach to the bend. An Order will also be made for Nelson Way, prohibiting parking on the east side during the daytime. A further Order relating to the control of parking in Hall Lane has been deferred because of objections by the Police and the North Norfolk District Council. Further consideration is being given to this to see whether an Order can be made for controlling the parking in a manner which will be generally acceptable. The working group has also been given brief details, by the Senior Traffic Management Engineer of the County Council, of the alternative pedestrianisation schemes which can be considered. The group is determined, at this stage, to keep a completely open mind on the suggested alternatives which range from extending the existing Market Day scheme to full pedestrianisation of the central area. As will be appreciated, the problems and difficulties associated with such schemes are wide ranging and will have to be studied in much more detail before submitting a recommendation for consideration by the full Council. Nothing will be decided until the public have been consulted and, of course, the final decision will rest with the Highway Authority.
The availability of resources will be a vital factor for any scheme since all of them will involve some expenditure on re-signing, improvement of junctions and installation of traffic-calming measures, the latter of which may be required anyway. It should be remembered that these traffic issues must be considered not just in relation to present day circumstances but by taking into account the increased volume of traffic there will certainly be in the future.
---
FISHY GOINGS ON
If youve never been, you wont understand why over 4 million anglers get up every Sunday at un-earthly hours to do battle against nature. This is very natural for us to do as years ago people fished for food but these days most people return their catch. Fishing is now one of the biggest participating sports in the country with all age groups enjoying the peaceful, relaxing surroundings to unwind the stress of todays society.
The North Walsham area is spoilt for choice for peaceful destinations; the Broads waterways and many still waters are within a ten mile radius to satisfy all types of fishing, including of course, the sea. So what could be more easy than to kit yourself up, get out there and just have a relaxing day. Regardless of whether you catch anything or not its just nice sitting there at one with nature. If youre like me youll have to have one more cast, or catch one more fish until darkness forces you home again.
Like any sport, fishing can be expensive, but you can start up on a small budget, kitting yourself up for less than 20 and still have a good chance of catching a fish. Or you can go mad and spend hundreds if you wish. I always tend to start people off with some cheap tackle, and see how they like it. The angler is easy to buy for at birthdays and Christmas, with tackle making the perfect gift; you know they will appreciate it and use it time and time again.
Now I know youre thinking what about Maggots!! Not everybodys cup-of-tea I know but they are one of the most productive baits for coarse fishing money can buy, but there are many alternatives. Sweetcorn straight from the can, luncheon meat, bread flake and paste, peas & baked beans plus many other foods we eat. I have caught fish on all of these baits plus many more.
So next time youre sitting in front of the television wondering what to do on a weekend get out there, get some fresh air and take up fishing. You might find that you enjoy yourself and its alot healthier as well.
John Hall
---
Appealling for a Good cause
The BREAK Charity Shop in North Walsham provides vital income for the Charity enabling us to continue caring for children and adults with learning disabilities and other special needs at our Norfolk Centres.
Each year over 1,000 guests are welcomed to Rainbow in Sheringham and The Sandcastle in Hunstanton and they enjoy a fun-filled holiday whilst their parents or carers benefit from a much needed break.
The shop relies on items donated by the public and at this time of year we urgently need goods including clothing, household furnishings, linen, glassware, china and bric-a-brac - in fact most items including the kitchen sink! (We are able to collect larger items).
---
CARERS INFORMATION WEEK
Information Points for carers and relaxation events are being held throughout North Norfolk and Broadland during National Carers Week - 29 April/5 May 1996
Details of new services for carers, and information about the New Carers Act, which comes into force from 1 April 1996, will be available from information points at Boots the Chemist & Somerfields Supermarket in North Walsham.
Opportunities for carers to come together to enjoy refreshments, a relaxation session and to review carers services, and obtain information about the New Carers Act will be provided on:
Monday 29 April at CROMER Parish Church Lounge
Tuesday 30 April at WELLS Cottage Hospital
Thursday 2 May at WROXHAM Community Room, Trafford Walk.
Anyone who would like to know more about the events in National Carers Week, or the services of Age Concern Norfolks Carers Support Project should ring 01692 407307.
---
Friends of the first order
There is a small group of parents of North Walsham First School pupils who regularly get together to discuss and arrange fundraising events. With the support of other parents, friends, staff and the local businesses and community in the area, they hope to raise money to buy items for the children at the school; items the school would not otherwise be able to purchase, due to budget restrictions of the local education authority. If you would like to help you can contact the Friends of North Walsham First School c/o Clive Hampson, Secretary, 7 Lime Tree Road, North Walsham. Telephone 407729.
---
A NEW christian LIFE
The New Life Community Church meets each Sunday morning at the Community Centre, New Road, North Walsham at 10.00am. Our time together includes, lively praise and worship, and teaching from the bible. We provide creche and childrens activities, finishing with refreshments and an opportunity to chat together. During the week we have a childrens club, homegroups, activities for different age groups and various social events. Through Alpha we extend to all the opportunity to explore the Christian faith in an enjoyable and relaxed way.
REFRESHING SPRINGS, is an opportunity for all christians in the area to join us in our monthly celebration at the Community Centre. The next meeting will be held on Sunday 21st April at 7.30pm. Further dates, May 12th, June 2nd and July 14th.
New Life Community Church is a member of the Evangelical Alliance and associated with New
Frontiers International. Information, programmes and further details are available on request. Please contact us on 500162 or 402028.
---
stay informed with age concern
Age Concern Norfolk East are now holding an information desk for the over 60s and those concerned with their welfare, in North Walsham Library on the first Thursday and third Tuesday of each month from 10.30am to 12.30pm. They invite you to call in for free information.
---
Lifesaving with St john
Many people living in North Walsham and the surrounding area would not know what to do if faced with an accident. The charity and leading First Aid Authority St John Ambulance has launched a new course called Lifesaver, dedicated to giving trainees every chance of reacting in the best way if an accident should happen. The next course commences Wednesday 3rd April 1996.
The course uses realistically staged accidents on video to bring trainees face to face with an emergency situation and there is plenty of practice to learn resuscitation skills. With just four minutes in which to resuscitate an unconscious casualty there is no time to loose.
Learn vital lifesaving and resuscitation techniques in just four hours.
Lifesaver First Aid comes in two parts. Learn vital lifesaving and resuscitation techniques, as well as how to handle emergency situations all in the first eight hours, that is four evening sessions. If you want to know more, the second part, Life Saver Plus, takes you through handling shock heart attacks, fractures, asthma attacks and much more.
North Walsham St John Ambulance Division started running the Lifesaver courses in March 1995, and so far approximately forty people have successfully completed the courses. Comments from trainees include:
I enjoyed attending the course; I feel confident about the skills I have learnt.
I was particularly pleased to learn about shock, as I was not clear about it before the course.
A very enjoyable and worthwhile course. I certainly feel that I could cope better if an accident occurred.

I have enjoyed the course, and would recommend it to my friends.
I thought it was easy to understand and easy to remember.
The Lifesaver First Aid courses are dedicated to those who lost their lives in the Hillsborough Disaster in 1989, and is funded by a 50,000 grant from the Hillsborough Disaster Charitable Trust. It will be a lasting tribute to the memory to those who died and acknowledges the St John Ambulance volunteers and others who helped on that day.
For further information about the course please contact Wayne Tritton 406927.
---
Remember - First Aid is for LIFE
Whether you are a new parent, child carer, interested in being able to help others or are even just looking for a worthwhile, useful course, Lifesaver will give you skills that you, and others, will only be thankful for.
If you dont feel confident to:
Keep a casualty alive with mouth-to-mouth breathing and chest compressions
Deal with someone who is unconscious
Control bleeding from a severe wound
Recognise and treat someone suffering from a heart attack
Recognise and treat someone in shock
Deal with a person choking
Cope with the results of an accident
CONTACT: Wayne Tritton 406927
---
LOOK!! - YOUR LAST CHANCE!
The North Walsham Town Guide for 1996-97 is about to go to press, but we have specially delayed the deadline to make sure all of our towns organisations are included. Many of you have already submitted details of your club or society for the listings, or updated your old entries, but if you think you may be missed out drop us a line before 22nd April.
If you have a business in the area and you havent yet been invited to advertise in the new Guide, please dont hesitate to phone us to discuss details and advertising rates, or you may like to write to us at the address below. This is North Walshams official town guide, seen by the visitors and all new residents moving to the town, providing an unrivalled opportunity to reach the new customers coming to the area. Can your business afford to not be included ?
Write to us at:
North Walsham Town Guide
c/o Express Printing & Stationery
38 Market Place, North Walsham NR28 9BT
or phone us on 01692 406439.
---
NS PCC Dates
The Dinner at the Beechwood Hotel is on the 28th of April, 7.00 for 7.30pm. Tickets are 15 per person and are available from Audrey Woods 403265.
The Societys Flag Day at Somerfields is on May 3rd. Volunteer helpers to do one hour are needed. Please phone me on the above number if you can help.
The Coffee Morning and Jumble Sale in the St Benet Hall &St Nicholas Room is on May 23rd from 9 - 12 noon. Goods for sale and helpers are needed please. If you have any jumble to be collected, please let me know before May 4th.