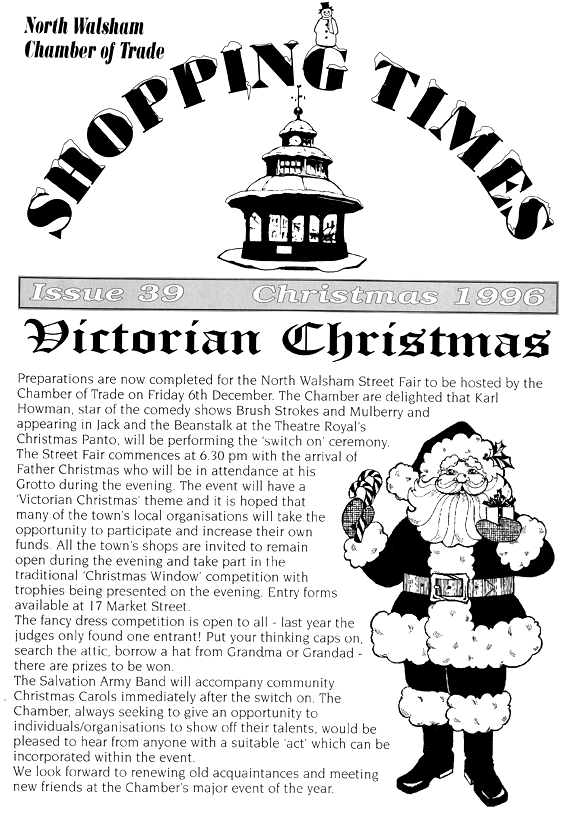 Victorian Christmas
Preparations are now completed for the North Walsham Street Fair to be hosted by the Chamber of Trade on Friday 6th December. The Chamber are delighted that Karl Howman, star of the comedy shows Brush Strokes and Mulberry and appearing in Jack and the Beanstalk at the Theatre Royals Christmas Panto, will be performing the switch on ceremony.
The Street Fair commences at 6.30 pm with the arrival of Father Christmas who will be in attendance at his Grotto during the evening. The event will have a Victorian Christmas theme and it is hoped that many of the towns local organisations will take the opportunity to participate and increase their own funds. All the towns shops are invited to remain open during the evening and take part in the traditional Christmas Window competition with trophies being presented on the evening. Entry forms available at 17 Market Street.
The fancy dress competition is open to all - last year the judges only found one entrant! Put your thinking caps on, search the attic, borrow a hat from Grandma or Grandad - there are prizes to be won.
The Salvation Army Band will accompany community Christmas Carols immediately after the switch on. The Chamber, always seeking to give an opportunity to individuals/organisations to show off their talents, would be pleased to hear from anyone with a suitable act which can be incorporated within the event.
We look forward to renewing old acquaintances and meeting new friends at the Chambers major event of the year.
---
A Message from the Town Mayor
About three years ago after a long and protracted process the Town Council assumed responsibility for the Memorial Park from the District Council. We are now free to make what improvements we want to the park, provided that we pay for them in some way. There has already been one well received improvement with the placing of four new seats on the park due to the kind generosity of the North Walsham Rotary Club who collected the money for them to commemorate their 50th anniversary year last year and to whom we are very thankful.
The next improvement will be the provision of iron railings around the War Memorial to protect and increase the impact of this wonderful structure which is there to remind us all of the ultimate sacrifice made by many citizens of the town in defence of our way of life. We are also going to reduce the hedges so as to increase the view of the Memorial. The money for this improvement has come from money collected from the town to support past Mayor Audrey Woods appeal for the scheme, a small donation from the Town Council, also cash that was originally collected for the church lighting appeal and a generous 1000 donation from the local British Legion for which we are again very thankful.
The next major improvement needed is to do something about the play equipment on the park. A group of parents have got together to work for play areas around the town. They recently handed in a petition to the Town Council calling for improvements and the council met with them on 22nd October. We were extremely impressed by the work they had already put in and by their willingness to carry out fundraising. Their commitment to the children of the town and community spirit are outstanding. The most pressing need is for an enclosed play area for young children on the park. This will be very expensive and the council felt that fund raising would not raise the money easily. At the meeting of the council on 28th October it was decided unanimously that we will consider putting 15,000 in our estimates for next years expenditure which will be designated solely for providing play areas and equipment. This will mean an increase of about 3 a year on a band D property on next years council tax. The Town Council and I feel that this is a very small price to pay to provide a much needed resource for the young children of the town and will give support and encouragement to the parents who are already working hard towards play areas for the town. Many people who replied to the town questionnaire said that they would be prepared to pay a little more to get what the town needed and we consider that this is the most pressing need at the moment. The increase will be for just one year but if people feel that this is a good way to get what the town needs then it could be repeated in future years as necessary.
Martin Booth
---
THE CHAIRMAN WRITES
In real danger of being unable to fund the lights this year, the Chambers Christmas Lights Appeal took a more serious note - a 10 donation from every local trader was and remains essential just to maintain the towns existing lighting display. Over 200 appeal letters were distributed. At the time of publishing over 100 traders contributed and the Chamber are delighted with additional donations received from Norfolk Homes, Wilcon Homes, Rodney Spray, St. Nicholas School, Express Cleaners, Ladies Circle, North Walsham Historical Society, R.A.F. Association and Probus. A huge thank you is extended to the Landlords of the Bluebell Public House, Terry and Chris Miller, who have generously donated to the lights appeal the sum of 427 raised at Quiz evenings organised by Mrs. Cornwall of the Town Council Improvements Committee. This has been utilised to provide a new display of lights for the Market Cross Christmas Tree.
Sadly the Chambers appeal for assistance with erecting displays brought forth only two volunteers - the usual small, enthusiastic team completed the task and the Chamber are again indebted to Rodney Spray, Michael Wright and their work force for their unceasing support. A collection to which it is hoped all local residents will contribute will take place at Somerfields on the day of the Street Fair. A successful collection will ensure improvements to the lights in 1997. The residents voted North Walsham a friendly town - 1996 is an opportunity for the whole community to ensure the town displays the best Christmas Lights in North Norfolk in future years.
Late night Christmas Shopping dates are now being co-ordinated by the Chamber. To take advantage of the towns high profile advertising opportunity currently being promoted shops and businesses are asked to take part in late night opening on the Thursday, Friday and Monday before Christmas staying open until 8.00pm. Head Cook and Bottlewasher, Dragonfly Gifts and Clothes shops, The Cat Pottery, Best Wishes, Hughes TV and Radio, Waterloo House and The Drug Store in addition to Woolworth and Roys have all confirmed they will be looking forward to seeing customers old and new on those days. In process of a membership recruitment drive with the support of Eastern Counties Newspapers offering members discounted advertising for quarterly North Norfolk News Supplements, the Chamber are pleased to welcome as members :
Eastern Carpet and Bed Centre, Allsorts of Everything, Conquer Promotions, Black Swan Public House, Bluebell Public House, The Cat Pottery, Cougar Management Services, Eastern Counties Newspapers, Highway Motors, Horners Auctioneers, N.J.E. Taxis, Texturcare, North Norfolk Employment, The Tele Centre, Waterloo Stores, D.C. Roberts Engineering, White Swan Public House, Arden Home Centre, North Walsham Fishmongers, Debiphil Photographics, Kings Arms Hotel, Country Pursuits, D. A. Klein Accountant, Joinery Softwoods
1997 subscriptions are now coming in, thank you and all have been added to the Chambers members recommend members campaign.
Both 1995 and 1996 have seen new businesses with the confidence to invest in North Walsham.
The increasing prosperity of our Town and its shopping centre rests entirely with the whole community who must continue to use the facilities available or run the risk of losing them. The Towns traders in their turn must provide the goods, services and levels of service that their customers require. May I, on behalf of the Chamber, thank you all for your support and wish you a happy and prosperous 1997.
Cilla Quittenden, Chairman
---
NEW LIFE COMMUNITY CHURCH
Sunday 22nd December
10.00am Christmas Special at the Community Centre
7.30pm Refreshing Springs Christmas celebration at the Community Centre.
Christmas Day
10.30am Christmas Morning Service at Aylsham Tabernacle.
Sunday 29th December
10.00am Morning Meeting at the Community Centre.
For information about New Life Community Church or a programme of activities please contact Graham Barwick on 01692 500280.
SACRED HEART CATHOLIC PARISH
Sunday 22nd December
3.00pm Carol Service, Sacred Heart, North Walsham
Tuesday 24th December
6.30pm Family Mass (First Mass of Christmas) Sacred Heart, North Walsham
8.30pm Christmas Mass, St Edwards Station Church, RAF Coltishall
10.00pm Early Midnight Mass, St Johns Aylsham
12.00pm Midnight Mass, Sacred Heart, North Walsham Carols from 11.30pm
Christmas Day
9.15am Christmas Mass, St Johns, Aylsham
11.00am Christmas Mass, Sacred Heart, North Walsham
METHODIST CHURCH, GRAMMAR SCHOOL ROAD.
Sunday 22nd December
10.45am Morning Worship Led by Rev Chris Sharp including Holy Communion.
6.30pm Carols by Candlelight, a service of Lesson and carols led by Rev Chris Sharp, followed by coffee and carols at the Manse
101 Mundesley Road, home of Rev & Mrs Sharp.
Tuesday 24th December
7.30pm Christmas Eve Holy Communion led by Rev C Sharp
Christmas Day
10.30am Christmas Morning Worship for all the family led by Rev C Sharp
Sunday 29th December
10.45am Morning Worship led by John Pascall
QUAKERS
Quaker Meeting House, Mundesley Road, Near Swafield
Every Sunday and Christmas Day
10.30am Meeting for Worship Everyone is welcome to join us in the quietness and simplicity of a Quaker Meeting, which gathers in a worshipful silence without a pre-arranged ceremony or service, and lasts for an hour.
CORNERSTONE CHURCH
Sunday 15th December
3.00pm Open Air Carols at Cosy Corner, Millfield
Sunday 22nd December
2.30pm Open Air Carols at Cosy Corner, Millfield followed by Christmas Service at Millfield School at 3.30pm.
WORSTEAD BAPTIST CHURCH, MEETING HILL
Sunday 8th December
2.30pm Carol Service
Christmas Day
10.00am Christmas Day Service
SALVATION ARMY
Sunday 22nd December
6.00pm Carol Service
Christmas Day
10.30am Family Service
Wednesday 1st January
10.30am Family Service
PARISH CHURCH
Thursday 19th December
2.00pm Pram Service Nativity Tableau Simple Christmas celebration for all under school age children of our Pram Service. Tea.
Sunday 22nd December
6.30pm Carol Service by Candlelight. Our traditional very high standard music readings, and prayers by full choir in the splendidly candlelit church. Not suitable for tiny children and babies.
Christmas Eve
6.00pm Christingle Service Candle in the Orange Ceremony. Bring all age children to this wondrous christmas eve ceremony. in aid of the C. of E. Childrens Society.
11.45pm Midnight Mass Everyone is welcome to come and share, in the first possible celebration of the birth of our Saviour
Christmas Day
8.00am Holy Communion Quiet early morning said Communion using the traditional language service.
10.00am Parish Communion Main celebration of Christmas Day for all the family. Carols, procession, communion. If you can come only once best make it this one.
4.30pm Candlelight Carols at the Crib. A walk to church, sing carols at our crib, hear poems and prayers all by candlelight. Suitable for all ages.
---
NORTH WALSHAM CRIME PREVENTION
In the last 12 months up to September 1996, crime in Norfolk fell by 0.7%, from 53,077 to 52,696. Whilst this statistic is always pleasing to report it should not be forgotten that since the 1960s crime has probably risen by about 250%!
In North Norfolk over the same twelve month period, crime actually rose by about 2.2%, from 4,897 to 5,006. If you consider that the North Norfolk Police area consists of 45 miles of coastline from Horsey to Holkham, and stops short within sight of Norwich you will realise what a large area has to be covered.
Within the Northern Division are Section Stations of Wells, Fakenham, Reepham, Holt, Sheringham, Cromer, Aylsham, Hoveton whose officers also patrol Coltishall, and North Walsham whose officers also patrol the Bacton Gas Site area.
If you now divide these crime figures by the number of sections, and then again by 12 or even 52 you reach a more accurate picture of the crime in our area. Obviously one crime report is one too many but we should not get carried away by the fear of criminals rampaging through our area.
House burglaries in the corresponding period totalled 341 as opposed to 451 the year before, a 25% reduction. A popular misconception about burglars is that they creep around at dead of night with a sack and crowbar in either hand climbing through upstairs windows. The reality is that they call on houses in daytime, usually between 10am-4pm, knock at your door if they think your house is unoccupied, ready with a smart question about tarmaccing your drive, or asking for directions should you unexpectedly answer the door. If your house looks occupied, or well defended they will usually move on to an area that looks easier, if not...., entry will usually by a rear facing downstairs window out of sight of onlookers and passers-by.
In mentioning the defence of your property, dont put up a structure that may prove difficult for intruders to climb but will definitely hide them from neighbours and passers-by. One of the newer forms of property boundary are thorn hedges such as Berberis and Pyracantha, often referred to as Firethorn, because of their beautiful flowers and berries. As the owner of one of these myself I defy anyone to climb or force their way through a mature hedge, as the cuts and scratches from a recent pruning session will testify.
We are often asked about Burglar Alarms, do they show that youve got something worth stealing? I can only reply by asking another question, if you were a burglar and two houses stood side by side, one with an alarm one without, which one would you break into?
Dont forget that in this area we have a new Homewatch Co-ordinator sponsored by Shell UK Exploration, who deals solely with Homewatch schemes and the benefits associated. If interested telephone 01692 401055 and ask to speak to Ron Elliott.
---
40TH ANNIVERSARY REUNION
Life begins at 40 or so we are told! The North Walsham St John Ambulance Cadets are to celebrate their 40th anniversary in April 1997 and are in the process of tracking down all past members of their cadet unit.
A reunion barbecue and a Cadet quiz will be held on the 19th April between North Walsham and other North Norfolk cadet units. The new challenge is to be called the Weavers Cup in honour of the founder of the North Walsham Cadets Mr Weaver; whom they are very eager to trace.
Any ex-members/Mr Weaver please contact David Pollitt (sergeant N Walsham Cadets) on 01692 406261.
---
CHRISTMAS OPENING HOURS
CHEMIST
Boots: Normal Hours: 9am - 5.30pm Mon - Sat
Closed 25th, 26th Dec and 1st Jan
Week co. 23rd Dec open til 6.30pm
Page: Normal Hours : 8.30am - 5.30pm Mon - Fri
9.00am - 1.00pm Sat
Closed 25th, 26th Dec and 1st Jan
Week co. 30th Dec open til 6.30pm
EMERGENCIES OVER BANK HOLIDAYS
Christmas Day: Boots, Cromer 11.00am - 12noon
Boxing Day: Boots, Cromer 12noon - 1.00pm
New Years Day: Lloyds, Cromer 12noon - 1.00pm
PASTON SURGERY
Monday 23rd Dec 8.45am - 6.00pm
Tues 24th Dec 8.45am - 12 noon
Wed 25th Dec Closed
Thurs 26th Dec Closed
Fri 27th Dec 8.45am - 6.00pm
Sat 28th Dec 8.45am - 12 noon Emergencies only
Mon 30th Dec 8.45am - 6.00pm
Tues 31st Dec 8.45am - 12 noon
Wed 1st Jan Closed
We would like to remind patients to make sure they order early for Christmas and the New Year and that they have enough medication to last them over the Holiday Period
---
CHARITY QUIZ NIGHTS
For the past three years light hearted quizzes have been organised to raise funds for many charity organisations. Following the summer break the next season began on September 25th to raise funds for St Nicholas Church Mission Society. Forthcoming events will raise funds for Mundesley Scouts and Guides, Quiddenham Hospice, North Walsham Pre-School Playgroup, St Johns Ambulance, Crossroads Charity Group and the Swimming Pool fund.
The quizzes will run at the Squash Club until July, start time is 7.30 and it costs 1.00 to enter as a member of a team of four, regular quizzers are a sociable lot and welcome individuals and doubles into their teams.
Is your association in need of funds? With a full house and a raffle 100 can be raised in a couple of hours.
There are twenty quizzes in the season, there are dates available for an association to contact organiser Steve Warren so that funds can be raised for your associations.
---
FOCUS ON: ANGEL BOOKSHOP
Since opening in 1990 the Angel Bookshop has gone from strength to strength. The shop has survived the ending of the Net Book Agreement which caused the demise of many small independent bookshops. The ever-expanding stock of contemporary, out-of-print, scarce, and antiquarian books (particularly local history and topography) continues to attract new customers.
Their willingness to search out obscure book titles, sometimes a difficult task, is obviously appreciated by their customers who voted the Angel Bookshop the Most Helpful Service Award of 1996.
Other achievements this year include continuing to supply the devastated Norwich Library with replacement out-of-print and antiquarian books for their local history reference library, and several nominations accepted for the Bookseller Diagram Group Prize for the Oddest Title of the Year - notably Teach your chicken to fly and Buddhism for Sheep!
The Gallery upstairs continues to show paintings, drawings, pottery and sculpture by artists living locally. The current exhibition is a mixed show of smaller works, most of which are for sale.
The Angel Bookshop would like to thank all its customers for their support and to wish everyone a happy and peaceful festive season.
---
FOCUS ON: CREATIONS
Creations in Mitre Tavern Yard is a small shop with a big welcome, especially if youre a child. The childrenswear and gift shop is truely child friendly, whilst parents are browsing there are toys to play with, boasting the only baby changing/feeding facilities in the town centre!
Creations offer a wide range of unusual gifts for all ages, many of which are handmade. They have babywear and clothes for children up to 12 years old, both casual and special occasion outfits plus accessories. If you cant find what youre looking for, Caroline offers a handmade service too. Creations offer a 60/40 clothes exchange so parents can turn their childrens outgrown clothes into cash.
Caroline from Creations has been staging fashion shows in local schools and playgroups. She says the shows are a really easy way for groups to raise money, theyre great fun and a good way to get our products out to the villages. In fact shows are so popular Creations are now booking for Spring 1997.
Caroline says Ive got children and I understand the frustrations of shopping for them, and with them! Creations makes shopping easy, its all here or if mums prefer we can bring it to them with partyplan. Shopping with us is fun.
If you want details phone Caroline Settle (01692) 405808 or better still pop into Creations.
---
NEW LIFE IN NORTH WALSHAM
New Life Community Church meets each Sunday morning at 10.00am in the Community Centre, New Road, North Walsham. Our time together includes lively worship and praise and teaching from the bible. We provide creche and childrens activities, finishing with refreshments and an opportunity to chat together. During the week we have a childrens club, youth activities, homegroups, social events and various other activities. We extend to all the opportunity to meet with us and explore the Christian faith in an enjoyable and relaxed way.
Refreshing Springs is our monthly celebration at the Community Centre and we invite you to join us at 7.30pm on Sunday December 22nd for a special Christmas Celebration.
New Life Community Church is a member of Churches Together in North Walsham, the Evangelical Alliance and associated with New Frontiers International.
Information, programmes, and further details are available on request. We would be pleased to hear from you. Please contact us on 01692 500280.
---
FOCUS ON : SPORTSWISE
When Sportswise was opened back in September 1978 it was based on a traditional sports shop offering sound honest advice and service, hopefully some 18 years later the same can still be said. Many sports shops have come and gone during this time but it is probable that Sportswise success in surviving this long period is its refusal to be dictated to by fashion trends which can change almost overnight! (Remember shell suits?) By concentrating on the needs of the sportsman and woman in the form of clothing, footwear and equipment they have built up a much appreciated band of customers including many who as bright eyed youngsters had crowded into the shop in 1978 when Norwich City captain Duncan Forbes performed the official opening.
As well as selling the current ranges from the top brands such as Nike, Reebok, Mitre, Speedo, Slazenger and many more Sportswise also sell and engrave trophies, shields etc,so that clubs can reward their winners with something to be admired by others.
Another string to their bow (pun completely intentional!) is a restringing service for all rackets.
Despite being a bit older and more rotound than when he first opened the shop Gerald Wild still participates in sport and hopefully this helps him appreciate how important it is to his customers to have the right equipment, clothing and footwear and if you catch him in the right mood he can be really helpful and patient to ensure you get exactly what is right for you.
Apart from stocking all this gear for the sportsperson Sportswise also sell those little bits and pieces suitable for presents like football team souvenirs including greetings cards and gift wrap.
So if you are needing anything for playing sport come to a sport shop.......SPORTSWISE.
---
FOCUS ON : FLOWERS AND CRAFTS
Flowers and Crafts situated at 10 St Nicholas Court specialise in all floral designs, from bouquets, arrangements, wedding designs, baby novelty arrangements, funeral tributes,...designs for all occasions!
As well as having a wide selection of cut flowers and house plants in stock they also have a good selection of helium balloons, cuddly toys, silk and dried flowers, baskets and pot covers, candles, garden ornaments, floral sundries and ribbons and much more!
Floral deliveries are made locally and worldwide via the Interflora service daily and with Christmas being just a few weeks away orders are now being taken for delivery during Christmas week.
A good range of holly wreathes will be in stock from the last week in November and they can also be made to your specific requirements.
Christmas arrangements are now being made in artificial christmas flowers, holly etc and a good range of Christmas sundries are now in.
Potted hyacinth bulbs, poinsettias, Christmas cacti and a range of seasonal plants will be available for the season.
Jackie, Sharon and Karen - the staff with a wealth of experience and qualifications look forward to seeing all their old and new customers and offer professional help and advice on all your floral requirements.
---
FOCUS ON : DARRENS PET CENTRE
North Walsham Shopping Precinct, does that sound like a new addition to the town, or would you know exactly where it was. Going one step further you may know where it is but can you remember what type of shops we have there. These may seem silly questions but I often get customers into my shop, Darrens Pet Centre, who says they never knew there was a Pet Shop in the Precinct, let alone the array of other notable shops.
Darrens Pet Centre has been established in North Walsham since March 1993 and has grown in reputation and custom ever since. I took over the business in October 1995 and have had as one of my main aims in running the business an understanding of what the customer requires. In todays society we should not take our customers for granted, and we should always remember that they could always go elsewhere. Customer care rates very highly at Darrens Pet Centre and the many regular valued customers know that we try and meet their needs. I was always taught that courtesy costs nothing, but means so much.
Well what do we offer? Apart from a very well stocked shop of all the basic dog and cat pet foods and accessories we have a selection of small rodent foods, toys and housing materials. We stock a wide range of bird cages, seeds and accessories for the pet birds and aviary stock along with all your wild bird requirements. Many medicinal remedies are stocked which are suitable for all pets and are approved by the British Veterinary Association. A good selection of livestock is always on display and these include, Hamsters, Mice, Rats, Gerbils, Rabbits, Guinea Pigs, a variety of Birds, Stick Insects, Fish and even some Snakes (dont worry they are only small harmless Garter Snakes). Crickets, Mealworms and Locusts are all available at extremely good prices.
Well as you can see I would need a lot more editorial space to list all I had in the shop, so I suggest that you seek me out and pay me a call, theres one thing for sure you will be made most welcome. Remember our motto is We care about you and your animals. Look forward to seeing you soon. Oh, by the way look out for those Christmas offers. Tony
---
FOCUS ON : TIFFANYS
Although tucked away in the corner of the precinct you will be surprised to find such a wonderful selection of separates to browse through. All hand picked including scarves, hats and costume jewellery.
On the first floor over 300 cocktail and evening gowns to buy or hire sizes 10-22. You can browse at any time, no appointments necessary. We are closed all day Wednesday at 12a St Nicholas Court North Walsham 01692 406179.
---
FOCUS ON : CASHCUT
Cashcut probably best known for its widely extensive selection in videos has branched out into the field of trainers. When shopping for trainers with names like Reebok, Kickers, Nike etc prices tend to differ quite considerably from shop to shop to catalogue. Cashcut are confident that they stock some of the best trainers at discount prices, but at the same time offer advice to pay them a visit earlier rather than later to avoid disappointment.
In no way are Cashcut shying away from their videos. The first floor is packed full of top titles for all ages and tastes. Quite often, recently released videos are in demand, although they stock more than one copy you may want to book in advance. For this reason please remember the importance of returning your videos on time. If you are not currently a member why not join today and wear in your new trainers in front of a film.
Cashcut would like to thank all their valued customers for their support during 1996 and wish them a merry Christmas and a happy new year.
---
FOCUS ON : THE TELECENTRE
Having just completed their first four months trading , The Telecentre in the precinct is very pleased with how they have been supported in North Walsham.
We just did not know what to expect says Ian Lane, the proprietor of the television sales and service business but trade has been so good we have recently taken on a full time assistant as well as a part-time engineer who comes in to help in the evenings, we also have a Saturday boy who hopes to learn the trade.
Ian has noticed a lot of people seem to be buying portable televisions as Christmas presents for older children and in some cases a video recorder as well, but with so many people now turning to Sky and all the many and varied channels we can now receive who can blame them for wanting to keep the younger members of the family entertained over the Christmas period and beyond. He is also experiencing many parents up-grading their own televisions and video recorders in time for the festive season.
Ian and Marion would like to take this opportunity to wish all our customers a very happy Christmas and a prosperous new year for 1997.
---
FOCUS ON : EASTERN CARPETS & BED CENTRE
Eastern Carpets and Bed Centre can offer your complete furnishing requirements, from their extensive range of quality floor coverings, curtains, blinds, beds, tracks, pine and occasional furniture.
Having two retail properties in the town they can offer you an aladdins cave of remnants and rolls from their warehouse in Kings Arm Street to the comprehensive range of named brands at their showroom in the precinct.
Store Manager, Andrew Kerry commented that keeping our prices competitive and giving a knowledgable service we have come through the recession unscathed. Most people enjoy a personal service that only their local shops can give.
---
Focus on: Clean & Green
When you come into the shop the first thing that strikes you is that it does not smell like a cleaners at all, only fresh air! Clean and Green, cleaners with a difference, dont use any solvents, protecting not only the environment, but our staff and customers as well. The secret is in the very latest cleaning machine, is a very sophisticated computer, controlling all liquids, detergents, speeds etc. whether washing or spinning etc. The Drying apparatus has sensors which measure relative humidity, therefore it enables all types of garments, from the finest fabrics to the robust leathers to be processed. From curtains to duvets. After intensive investigations and trials, the process is endorsed by such notable companies as Frank Usher, also by environmental groups as Green Peace and Friends of the Earth .
They discovered that every part of the process is biodegradable, which means environmentally friendly. But the main thing is that it really gets things clean.
---
THE OLD SADDLERS SHOP PROJECT
After enthusiastic fund-raising commencing mid-1995, the refurbishment of this old building at the rear of the St. Nicholas Church Halls was started in June this year and is proceeding well. Todate all the roof timbers have been renewed, the roof having been retiled using existing tiles where possible, supplemented with matching, used tiles where necessary. Having also replaced the front window and door, together with the side windows, the building is now totally weatherproof. The next phase of the project will be to install the concrete base of the floor in the main activity room. The gross funding has now reached 10,000, the estimated total requirement being in the order of 16/17,000. From an earlier application to the Norfolk Rural Community Council, the project has been given a grant of 1,000 subject to the fund reaching the interim target of 10,000. Having achieved this figure an application can be made now for the grant. Funds are currently available for the flooring, the N.R.C.C. grant providing for any contingency that may arise and for further planned works. With a fair distance to go to reach the estimated target, further fund raising plans are being made, including a Coffee Morning and Bric-a Brac Sale on Thursday, December l9th and a Bottle Stall at the Town Street Fayre on Friday, December 6th. Anyone wishing to help or for further information on the project/fund raising, ring 01692 402701.
---
NEW ALL-AGE GUIDANCE SERVICE MOVES TO ST NICHOLAS COURT
The North Walsham Careers Centre is moving from New Road, North Walsham to St. Nicholas Court, the date is yet to be confirmed but it is likely to be late December, early January, look out for further information.
From the 1 April 1996, the Careers Service left the local Education Authority and became Norfolk Careers Services Ltd., an all-age guidance provider, under contract to the Department of Education and Employment.
The new Centre will provide much needed new facilities for the community including an excellent information library where clients will be able to browse through careers literature and a whole host of other related materials. There will be a TV + Video loan service on offer.
A number of inter-active computer aided guidance packages will be available for customers to access with or without one of our experienced advisers.
An information and guidance service is available for young people wishing to look for job / training / education opportunities and a package of help and support will be on offer to them through a named adviser, to include job hunting skills, and a general information and guidance service.
As we are an all-age guidance provider we will try to help anyone from school to retirement age, from women returners to job hunters and can offer advice and guidance on a variety of topics, to include:
Guidance on Suitable Career Choice
Further/Higher Education
Adult Education
Advice on Grants/Funding
Job Hunting Skills
Voluntary /Year Out Opportunities
All the discussions will take place by qualified, friendly advisers in comfortable and private interview rooms.
For employers seeking young people for work/training opportunities we offer a free vacancy and placing service and will also visit employers who are needing information on training and new qualifications.
Most services are free to the unemployed and we offer very competitive rates to customers in full-time employment.
We also offer an excellent, professional CV service and a psychometric testing programme for both customers and employers to use for the recruitment of new staff, again, all at competitive rates.
The new Careers Centre will hopefully become the centre of guidance for North Norfolk and an important resource in helping the local community access new opportunities and will bring more people into the town which can only be good news for North Walsham.
For further information contact: Debi Hanley (District Manger) on 01692 500595
---
FOCUS ON PRETTY THINGS
Have you ever journeyed into Pretty Things?
Tucked in the corner of Market Cross Mews is an Aladdins Cave full of surprises. As you enter you are greeted with the aroma of a wide range of Pot Pourri and Scented Candles of all shapes, colours and sizes. The selection of gift ware is amazing, Lamps, Candle Lamps, Oil Burners, Table Linen, Lace Doilies, Napkins, Boxed Hankies, Picture Frames, Candle Sticks, Door Stops, Gift Boxes and countless other unusual items hidden in every corner. The haberdashery section has everything you could possibly require, Threads, Silks, Tapestry Wools, Braids, Ribbon, Lace, Elastic, Buttons and Zips, offered for sale the good old fashioned way, if a 1/2 metre of ribbon to wrap a present or 2 buttons for a repair is all you want then you can get them at Pretty Things. Craft materials abound, Cross Stitch and Tapestry Kits, Fabric Paints, Fimo Modelling Material, Jewellery Findings, Toy Making Accessories, Fur Fabric, Soft Toy Kits & Stencils, the choice is endless. New owners Julie Cameron and Sharon Humphrey have their own quality handmade childrens wear label, ThreadBear, choose from an extensive range off the Rail or have something made to measure in one of the beautiful materials offered. A recent addition has been a range of Nursery products, including, High Chairs, High Chair Cushions, Bouncing Cradles, Changing Mats, Pushchair Raincovers, Wooden Toy Bricks and many other items available to order. The Christmas stock has now arrived, so for all those special gifts save yourself a trip out of town and try Pretty Things first. Sharon and Julie send many thanks for all the kind support from their customers in their new venture and wish them all a very Merry Christmas.
---
SAVE THE CHILDREN CHRISTMAS BAZAAR
Save The Children, North Walsham Branch, is holding its annual fundraising bazaar on the 7th December at the St Benet Hall. 9.30am - 12noon.
It has proven to be a very successful event which has raised substantial funds for our charity, and we are inviting local businesses to support the bazaar by making a contribution.
There will be a tombola stall, raffle, book stall, bric-a-brac, craft stall, etc., and of course Father Christmas will be present to hand out presents to the children.
Save the Children relies heavily on the local community and I hope you will be able to make a suitable donation - supporters names will be publicised on the day.
If you would be able to help, please contact Stephanie Richardson on (01692) 500585.
---
SWIMMING POOL
North Walsham Swimming Pool Fund association committee are very pleased to be able to tell you that at long last there really is a light at the end of the tunnel for our hopes of a SWIMMING POOL FOR NORTH WALSHAM.
We are now working very closely with North Norfolk District Council who are at this moment preparing a brief, which after consultation with us will then be given to a firm of consultants to prepare a feasibility study on every aspect of the swimming pool. This will look at all the sites that have been suggested and also any other facilities which may be regarded as necessary in order to make this venture a going concern. When this report has been completed it will then be given further consideration by the Council and ourselves and when we think we have the best possible scheme planned we shall be in a position to apply for a National Lottery Grant.
Please be patient, it is going to happen and I think it will certainly be a wonderful way for North Walsham to celebrate the turn of the century. Those of you who have supported this dream for so many years will be delighted and to those of you who were Doubting Thomass then you will have to eat your words.
Christmas Greetings from Ellen Grover, Chairman North Walsham Swimming Pool Fund Association
---
ROYAL MAIL RECOMMENDED POSTING DATES
Wednesday 18th December Parcels
Wednesday 18th December 2nd Class
Friday 20th December 1st Class
---
NSPCC
The NSPCC exists because children continue to be neglected, abused physically, sexually and emotionally. The focus of the NSPCC is specifically to protect children protect those at risk of abuse and those who may suffer further harm: help children overcome the effects of abuse; and prevent cruelty to children.
THE CHILD IS AT THE CENTRE OF ALL WE DO
How the NSPCC Helps Children.....
Here in Norfolk the NSPCCs vital work is carried out by a Child Protection Team based at Gorleston.
Through assessment services, counselling and therapeutic treatment, quite often intensive, they help children and families overcome and recover from the effects of abuse.
They work not only with the children, but with parents, families and carers. Sometimes with teachers, medical staff and other professionals involved with the case too.
In addition the team carries out research into child abuse and protection and is involved in training other child care professionals in the County.
The Norfolk Child Protection Team is helping approximately 30 families at any one time and costs over 220,00 per year to run. Over 70% of this cost must be funded through voluntary income All funds raised locally are spent on providing services for local children
*The NSPCC also operates a National Child Protection helpline 24 hours, 7 days a week, a freephone service, for anyone who is concerned about the welfare of a child or children.Ring 0800 800 500
*The Society undertakes research and provides leaflets and publications to educate and inform both professionals and the general public.
*Provides an Independent campaigning voice on behalf of children
How you can help the NSPCC....
The support of our local volunteer network is vital to our fundraising and the continuation of the Societys work, if you would like further information, could spare some time to help with your local group, or would like to make a donation then the Area Appeals office would be pleased to receive your call on 01359 242540.
Your local North Walsham representative is : Mrs A. C. Woods, M.B.E., 17 Kimberley Road, North Walsham 403265.
---
CHRISTMAS REFUSE COLLECTION ARRANGEMENTS
Normal Collection Revised Holiday Collection
Mon 23rd December Sat 21st December
Tues 24th December Mon 23rd December
Wed 25th December Tues 24th December
Thurs 26th December Fri 27th December
Fri 27th December Sat 29th December
Mon 30th December Mon 30th December
Tues 31st December Tues 31st December
Wed 1st January Thur 2nd January
Thurs 2nd January Fri 3rd January
Fri 3rd January Sat 4th January
You are not limited to the amount of domestic refuse sacks you put out on these days but please remember to recycle those bottles, papers etc. at of the nearby recycling bank sites and compost where possible.
On behalf of all at the North Norfolk District Council, may we wish you a Happy Christmas and a prosperous New Year.
---
PENSION PAYMENTS OVER CHRISTMAS AND NEW YEAR
Payment due on 25th & 26th December
and on January 1st can be collected as follows:
25th December on 18th December
26th December on 19th December
1st January on 27th December
---
CRICKET CLUB
Having been promoted back to division one of the National Westminster Market Cross League, North Walsham had a steady season finishing with a group of clubs which needed a third umpire to split them, finally settling for 4th spot.
The date for the AGM has yet to be set but it should be during December following the league AGM in late November.
During the winter many of our players will be performing in the indoor cricket league at the Sports Centre on Sunday mornings, last season North Walsham narrowly missed out on defending their title, Bradfield taking the honours, but rest assured North Walsham are after the championship again this year.
Although next years cricket season seems a long way off if you are interested in donning the whites for your town, please phone club captain Billy Batchelor on 404339 who will be only to interested to hear from you.
One final paragraph to thank all our boundary board advertisers for their continuing support and just to let them know that I shall be round for the money soon!
---
LIBRARY HOURS OVER CHRISTMAS AND NEW YEAR
Normal Hours
Monday 10am-7.30pm Thursday 10am-7.30pm
Tuesday 10am-5pm Friday 10am-5pm
Wednesday Closed Saturday 10am-1pm
Christmas Hours
Wednesday 25th & Thursday 26th Dec Closed
Wednesday 1st Jan Closed
---
FOCUS ON; HEAD COOK AND BOTTLE WASHER
Its wonderful! I never dreamed that it would become so popular, says Andree Lloyd, who runs Head Cook &Bottlewasher, the specialist cookshop in the town which has just moved into larger premises on two floors in Church Street after only two and a half years of trading.
When I first opened the door of the original shop in Mundesley Road in June 1994, it was a risk, but I felt that there was a market for a specialist cookshop which would complement the other shops in the town. I also believed that if it were specialist enough, then it might attract a few people interested in cooking who wouldnt normally have shopped in North Walsham.
I seem to have been proved right. I had no plans to move but I was continually being asked for items which I didnt have the room to stock and am now able to. It wasnt easy to leave Mundesley Road but the enormous amount of support and the many best wishes I have received from both established and new customers has convinced me that I have done the right thing.
Andree extends her thanks to everyone who has supported her since she first opened and, in particular those bottlewashers who gave up their spare time to help her move into the new premises - they are well worth a visit.
---
FRIENDS OF NORTH WALSHAM HIGH SCHOOL
The new school uniform sweatshirts are proving very popular and in order to meet the demand we are proposing to hold additional uniform shops once a week during the lunch break ( pupils will be informed of the days/dates) this will be in addition to the normal monthly shop on the first Tuesday after school.
Discos have resumed after the summer break and as ever are very well supported by the pupils. We still need more volunteer helpers to help us to steward the evenings in order to maintain a safe and secure environment for the children. If you would like to volunteer your services please telephone the school (402581) and leave your name and address and a member of the committee will contact you.
We have been pleased to welcome two new members to our committee this term, we all enjoy our efforts to help to provide extras for the school which we know are very much appreciated.
Merry Christmas from, The Friends
---
Friends of FriesenrIEd Association
The Friesenried Association held its Annual Meeting in the Church Rooms on Friday 15th November and apart from the normal matters dealt with at annual meetings considered its plans for visiting our twinning partners in Friesenried, Bavaria between 18th and 23rd July next year. This period covers the time when the Annual Tanzelfest is held which is a splendid colourful pageant held in a carnival atmosphere in a picturesque setting in the nearby walled town of Kaufbeuren. Some of our members have already experienced the enjoyment of the Tanzelfest on a previous visit and are keen to be there again.
On previous visits we have travelled to Friesenried by coach with an overnight stay on the outward journey but on this occasion the Committee of the Association is looking into the possibility of flying to Munich via Skippol. Anyone interested in becoming members of the Association should contact Ron Nash at the Town Council offices. (Tel No. 404114).
---
NORTH WALSHAM RUNNERS
At the time of the last issue of the Shopping Times the running club was busily preparing for the Worstead Festival 5 mile road race which they have organised for the last 9 years. This years race was again a big success with over 150 people taking part and the running club has handed over nearly one hundred pounds to the Worstead Festival as a result.
I had better mention that for the first time one of our own club runners was allowed to skive off from marshalling the run in order to race, and promptly finished as the second lady to finish, so congratulations to Su Brooks on this fine achievement.
Unfortunately now that winter darkness has arrived all our evening runs are done on the pavements of the town but if we get a reasonable amount of runners in the London Marathon then it is intended to restart our popular Sunday morning runs, covering any large hill in North Norfolk!
We now have a couple of regular lady runners (three when Sus home from Uni) so ladies come and join in its much safer and probably more fun to run in a bigger group.
So dont forget Mondays and Fridays at 7 OClock at the Sports Centre on Spencer Avenue is North Walsham Runners start time and place, be there or be square (or round or fat or something).
---
FOCUS ON: POPPIES
With Christmas not so far away now, it really must be time to start the Christmas Shopping. What to buy mums, aunts, sisters, something different to the usual jewellery, perfume etc. Here at Poppies, we will try to help you come up with an unusual gift idea. Why not have an arrangement in silk or dried flowers. We make to order wall, table arrangements etc in a large variety of colours. Please if possible though give us a few days notice! How about an arrangement or bouquet of fresh flowers delivered to her door on Christmas week - that way she has flowers to enjoy over the Christmas period. Dont forget our extensive range of beauty products made up in gift presentation baskets, plus a large selection of aromatherapy oils - cuddly toys for the younger, and also older members of the family! Wreaths both for the door and remembering loved ones at Christmas and last but not least the Christmas Tree - in stock from the first week of December. Delivered to your door if you dont fancy pine needles in your car for the next few weeks! We look forward to seeing or hearing from you soon (Tel: 407172) and wish all our customers a very happy Christmas.
---
BREAK
BREAK Charity provides essential holiday and respite care for children and adults with a wide range of disabilities at Rainbow in Sheringham and The Sandcastle in Hunstanton.
BREAKs guests enjoy a varied, active holiday programme including outings to many local attractions. Whilst our guests are enjoying their stay, their families are benefiting from a much needed rest enabling them to cope better with the many pressures they face throughout the rest of the year.
BREAK Charity Shops provide vital income to support BREAKs care work. Our shop in North Walsham greatly appreciates the support it receives from local people throughout the year. Donated items, including clothing, bric-a-brac and small items of furniture, are always gratefully received.
BREAK is a registered charity number 286650.